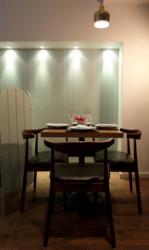 Here at Foodepedia we like to keep you up to date with all that is happening in the food world. With that in mind we've rounded up some restuarant news that you might enjoy.
The Balcon is opening on 17th October 2011 at 8 Pall Mall. It will be a grand brasserie offering French-British cuisine by Head Chef Vincent Menager. The menu will combine both classic French and British cooking styles and ingredients. Menager's previous experience includes working under Frédéric Anton (Le Pré Catelan, Paris), Albert Roux, Alain Dutournier (Café Faubourg, Paris) and Alain Ducasse. The Balcon also features an intriguing sounding Champagne Balcony, as well as a Charcuterie Bar.
The Polpo Family can often be a maddening victim of its own success, with long queues a given. Foodepedia was thus heartened to hear that Russell Norman has caved to demand and is now offering reservations at Polpetto. Norman said "Polpetto is the place we get the most requests for, sometimes fielding 150 enquiries a day for 12 tables. We are doing this in response to overwhelming badgering and constant demand – we want to keep our regulars happy and I want a quiet life."
For those of you who enjoy the ability to rock up on the night a small number of tables will be left for walk ins. This concession to busy Londoners is accompanied by a new menu from Head Chef Florence Knight, dishes will include Baby Beets with Roasted Cobnuts, Whole Burrata with Samphire & Chilli and Stonebass Carpaccio with caraway. The larger plates look set to dishes such as Pork in Milk, Dandelion & Wet Walnut Rigatoni and Venison Loin with Pickled Damsons.
Trishna will be celebrating Diwali, the Hindu festival of light, from 17th – 26th October with a tasting menu created by Head Chef, Karam Sethi. The tasting menu will include a choice of 4 or 6 courses with matching wines and guests can also try petit-fours of prasad, Indian sweets which are traditionally eaten during Diwali.
The Wright Brothers Soho Raw Bar opens on the 20th of October. The Raw Bar menu will include a selection of the Wright Brothers oysters straight from their Duchy Oyster Farm on the Helford River in Cornwall, the British Isles and France and signature dishes such sustainable Mottra caviar with brown toast & crème fraîche (£55), market fish tartare (price available on the day), Cherrystone clams (£5.50), and sea urchins with sourdough soldiers (£10.00). A wide selection of Porters and craft beers will be available to accompany the food.
Ducksoup (Not Duck Soup), is the latest venue to have the twittersphere in a flurry. With head Chef Julian Briggs formely of Hix Oyster and Chop House, we can understand why. Part of the new wave of resturants moving into Soho, this Dean street based venture features a small menu of around six dishes, changing daily. Examples include slow roast shoulder of lamb with broad beans and a garlic sauce; roast cep mushrooms with lardo de colonata & Berkswell cheese; grilled octopus with green sauce; and Castelluci lentils with watercress and goats' curd. Sensibly given the name, the restaurant also serves 'duck soup', made with Italian Nostrale potatoes and foie gras.
The wine list is short and focused mainly on small scale and natural wine producers.