This April, the Southbank is getting even more edible. Year-round, fervent foodies flock to the Real Food Festival and munch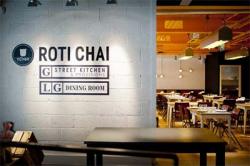 their way right up to Borough Market in a sort of picnic procession. But this month sees spicier fare for sale as the Southbank Centre's annual Alchemy festival celebrates all things Indian.
Roti Chai is popping up alongside a fortnight-long Indian food market, pedalling exotic street snackerels and cocktails to festival goers. Given the immediate weather forecast, Roti Chai Chaat Shack will provide much-needed shelter from the elements and a few tasty ways to warm up whether you're thirsty, hungry or hitting the hard stuff.
Despite a dodgy knee, Roti Chai founder Rohit Chugh has been hobbling about creating a nibbly menu of multi-flavoured Mumbai beach-style munchies like samosa buns, bhel puri and papri chaat; although the bowls of spicy Keralan banana chips gracing every table are reason enough to visit on their own merit.
To whet your whistle, there's hot milky chai and a range of spiced-up cocktails – many available as'virgin' for the virtuous. There are fruity, zesty, tropical offerings aplenty, but on a cold evening you can't beat the Thandai Toddy; a sort of rich, creamy nog well-spiked with Ceylon coconut arrack – available chilled on the slight offchance you should not be.
As part of Alchemy, on 11th April Hardeep Singh Kohli – as known for loving his grub as for his comedy – will join up with Roti Chai's chefs and the team from The Cinnamon Club to wax lyrical about the evolution of modern Indian cuisine in London. However spicy the conversation gets, Roti Chai's Chaat Shack will be serving up food to match.
Roti Chai Chaat Shack & Bar is open 12 noon – 10.30pm daily until 26th April at Festival Village, Southbank Centre, www.southbankcentre.co.uk
For more information on the Southbank Centre's Alchemy festival, visit www.southbankcentre.co.uk