Unit 9a Devonshire Square, London, EC2M 4AE sushinho.com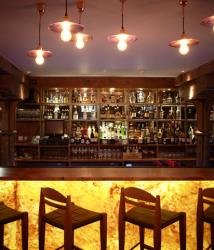 Brazilian /Japanese fusion eh? Normally the word'fusion' flags up very bad ideas, most notably in music when a dozen different people on a stage, invariably fronted by Sting, vie with each other to see who can produce the most'challenging' racket.Only the label'jazz rock', can set off similar warning bells in my head.
But as it happens I ate at the first Sushinho in the Kings Road four years ago and rather liked it; I took a Japanese person from Tokyo and she had no complaints and even found it fun, the sight of the local Henrys cavorting about causing her to raise her hand to her mouth to hide her giggles. So I was keen to try this new outpost in the City, a neutral area where men in suits mingle with boys with DH Lawrence beards.
The large room is part of the old spice warehouses, one of the last to be put into new use. In fact in my other life I copywrote a small film that we shot in the very same room last year, back then it was totally gutted out, the bare brick walls and iron pillars making a gritty backdrop. The bricks are still bare, but now the room has become cool and New York lofty with plenty of light from the glass covered courtyard outside and a pleasant minimalism to the decor and furnishings.
The original Sushinho was really more a bar with food than a restaurant, and so dark I had to view the menu by the light of my mobile phone. In this Sushinho the bar is thankfully downstairs, allowing the restaurant to be just that.
There is a logical foundation to this fusioning; Brazil is home to the largest Japanese community outside of Japan, numbering 1.8 million and growing, and so it's only natural that the cuisines will cross over and cross-fertilise. The quite pricey menu is a smorgasbord (sic) of things that don't easily fall into starter and  main, categories, so rather blindly we just picked dishes that we liked the sound of, and hoped for the best, with the ever effusive waiter treading a fine line between being helpful and driving us nuts.
From the rolls, Dragon was prettily presented;  soft slices of avocado layered to resemble the articulated armour of an armadillo (or, yes, a dragon ) encasing prawn tempura and topped off with a few pearls of flying fish roe. As a contrast in textures, and both salt and sweetish, it was rather good and easily eaten in one bite.
The Sushinho tempura rolls with salmon, crab, and cream cheese were our favourites though, the crunchy exterior perfect against the soft cheese and a little dance of flavours. A bit tricky to eat with chopsticks, mine actually belly flopped in the soy sauce spattering inky drops all around, but that's simply lack of stick skill on my part.
Best of all was the butterfish tataki with truffle jelly and crispy capers. The fish really was the texture of sliced fridge-fresh Lurpak; a silky mouthful with the nose tickled by that truffle. The searing was subtle, barely a millimetre in, and all in all a dish that made you sit up and then sit back contentedly.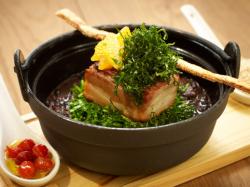 This being lunch we were keeping it light but pork belly, feijoada, kale, crackling was substantial enough to share. The crackling came as a kind of porky grissini, decently crispy without being a teeth-breaker, while the large monolithic cube of belly had unctuous fat melting into the black bean stew beneath.
This was pretty much 100% Brazilian, unless there was soy sauce in there, and salty and mildly spicy with the ratio of meat to fat about even, Shredded bright green kale lurked under the meat, a welcome dash of bitterness against the beans earthiness. We liked the tiny peppers alongside, sweet and fiery they were devilishly addictive.
And so to pud, a churro so insanely sugary that diabetics half a mile away were keeling over just hearing rumours about it, and made even stickier by the thick dolce de leite pot that came with it. It was good, but it made me feel a little sick after a bit, being by nature not a fan of sweet things.
I'm quite a fan of Sushinho though, its fusion is not fatuous and it's style is fine for the market it's going for. Purists will quibble and carp but they probably don't work or live in Devonshire Square, those that do, already lucky enough to have the excellent Cinnamon Kitchen in situ, won't be disappointed. Maybe now I'll give Jazz/Rock another try. No,perhaps not. Some things will never work.