We've delved into Giancarlo and Katie Caldesi's great new book The Amalfi Coast (read more here) to bring you two super summery recipes.
Pollo al limone/ Lemon chicken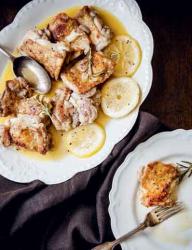 Chicken thighs are underused, in my opinion. They are economical, succulent, full of flavour (more so than the overused breast) and cook quickly. This simple recipe is great as a quick supper dish.
Serves 4
8 boneless chicken thighs, skin on
salt and freshly ground black pepper
'00′ or plain flour, to coat the chicken
1 tablespoon olive oil
2 garlic cloves, lightly crushed
3 small sprigs of rosemary
100 ml (31⁄2 fl oz/1⁄2 cup) white wine
50 ml (2 fl oz/1⁄4 cup) water
juice of 1 lemon (reserve the juiced
halves)
25 g (1 oz/2 tablespoons) butter
new or fried potatoes to serve
slices of lemon to garnish
Season the pieces of chicken with salt and black pepper. Coat the pieces in flour and tap off the excess. A quick way of doing this is to put the flour in a plastic food bag with the chicken pieces and shake the bag, making sure the meat is evenly coated. Heat the oil in a non-stick frying pan and fry the chicken skin-side down first until golden brown. Turn the chicken over and brown the other side, adding the garlic and rosemary. Pour away the excess oil and return to the heat. Pour in the wine and allow it to reduce for a few minutes, then add water, lemon juice and butter. Add the lemon halves to the pan and keep on the heat until the chicken is cooked through. Discard the lemon halves and serve with new or fried potatoes.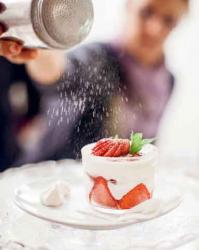 Tiramisù fragile & limone
This is a great quick dessert to make. Served in individual glasses it is very impressive to look at. We first tried it in Positano in a lovely restaurant called Next 2.
Serves 6
500 g (1 lb 2oz/31⁄3 cups) strawberries
300 ml (10 fl oz/11⁄4 cups) whipping
cream
250 g (9 oz) mascarpone
zest and juice of 2 lemons
100 g (31⁄2 oz/3⁄8 cup) caster
(superfine) sugar
2 tablespoons maraschino liqueur,
white wine or elderflower cordial
1⁄2–1 quantity of Strawberry sauce
(see above)
12 sponge fingers
icing (confectioner's) sugar, for dusting
Set aside six medium strawberries. In a bowl, whip the cream and then whisk in the mascarpone. Fold in the lemon zest and sugar, followed by the lemon juice. In a flat dish, mix the liqueur with 11⁄2 tablespoons of the strawberry sauce, then dip the sponge fingers into the liqueur until they are just soft but not soggy. Cut the remaining strawberries into slices.
Lay a few slices in the bottom of 6 Martini glasses or tumblers so that the slices are facing outwards, then add a layer of cream, the remaining sauce and the soaked sponge fingers. Finish with a layer of cream. Decorate each glass with a fanned strawberry and lightly dust with icing sugar.