Experimental cuisine's all the rage but is there any substance to it or is it just smoke and mirrors? Catherine Jones finds out.
Ever since Heston Blumenthal burst onto our TV screens, using clouds of CO2 to increase the flavour of his dishes, making pork scratchings the size of flying saucers and using chemistry to turn base meals into culinary gold, any chef worth his lavender-infused salt has combined cooking with science. Molecular Gastronomy, using chemistry techniques to study and create food, is de rigeur.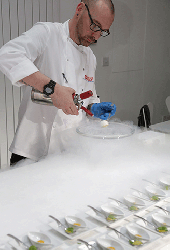 But does it really enhance your eating experience or is it just a fad? I've joined a group of journalists for experimental cuisine at a hired space near Covent Garden, to find out.
The event's been arranged to promote Colgate Sensitive Pro-Relief, a toothpaste which promises to cure sensitive teeth by creating a barrier between food and your teeth's raw nerve endings. Chemical Chef Sean Wilkinson has created a menu incorporating sweet, cold, hot, spicy and acidic foods which exacerbate sensitive teeth to show that the toothpaste works.
Tenuous? Maybe. But I'm excited when Sean uses a canister of Carbon Dioxide to create our starter. While he sculpts an egg white into meringue, his bald head and tattooed arms only just visible through the clouds of gas, we slather the toothpaste onto our teeth and hope it works its magic.
Dusted with freeze dried lemongrass, the meringue disintegrates into a delicious burst of creamy passion fruit-flavoured foam and a teaspoon of jade passion fruit-flavoured balls that look caviar bursts in my mouth. They remind me of the jelly balls you get at the bottom of Bubble Tea. It's a light, tasty palate cleanser but it's a lot of faff.
Still, if anyone can prove that experimental cuisine isn't just about superficial and entertaining, it's Sean. Self-taught, he became a head chef aged 21, then started reading about experimental cuisine and practising techniques like spherification (turning liquids into tiny spheres).
Ten years on, after being the head chef of Michelin-starred Attitude and winning awards at two other Durham restaurants, he's used his scientific know-how to create foods for head and neck cancer patients who often find it hard to swallow food.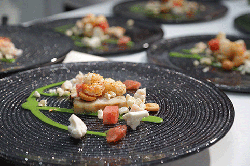 Most notably, he created deconstructed cheese sandwich for John, a man who hadn't eaten one for two years following cancer treatment. He froze focaccia, shaved off thin slices and baked it in the oven to make a cracker bread, then combined cheese, gelatine, water and milk and infused it with CO2 to make a flavoursome cheese mousse and finished it with a soft tomato chutney. It was a triumph and John now takes a canister of CO2 with him to the pub so he can recreate the sandwich!
I quite like the sound of it but Sean has other ideas for our starter. A silky-smooth beetroot sorbet is sweet and earthy, like inhaling the contents of Chelsea Flower Show. It's served with cubes of beetroot jelly, goat's cheese snow (frozen and crystallised goats cheese that melts deliciously on my tongue) and a goat's cheese mousse encrusted with crushed walnuts. The star of the show is the beetroot crisp created from a reduction of seaweed gel infused with beetroot flavour. It's crunchy, moreish, like vegetarian crackling.
As I listen to Sean explain the science behind his dishes – how CO2 intensifies flavours because the micro bubbles in the mixture cover a greater area on the tongue, and how just one egg white has made 14 meringues – it ignites an interest in science I never knew I had. If only I'd made meringues in chemistry at school instead of trying to learn the periodic table, I'd be brainier than Brian Cox.
The main course, Sean's take on a Surf and Turf, is a magic carpet ride of flavours and textures: Pork belly cooked in a water bath for seven hours so it's as soft as butter, streaks of spinach veloute and carrot puree, pickled cauliflower florets, chunks of grapefruit for a burst of citrus flavour, lobster with a marmalade glaze and crunchy carrot meringues. On top is a sprinkling of puffed-out tapioca, spices and herbs that tastes like popcorn.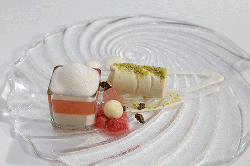 The meal ends with a creamy Panna cotta topped with rhubarb foam. I'm not a fan of foam – it reminds me of school sports day spittle – and this one lacked flavour. Sean was aiming for different temperatures (cool Panna cotta and hot foam) but sadly it was tepid by the time we got it. Luckily, the creamy, white chocolate custard parfait saved the day and the cocoa butter popping candy was a fun addition, especially as one of the diners hadn't had it before.
Watching everyone else's reaction to the meal was as enjoyable as the food. This wasn't just gastronomy, it was entertainment. While my eyes popped out of my head and my tastebuds tingled with delight, my teeth did feel the rigours of Sean's menu. Maybe I should've used more of the toothpaste. 
My first experience of experimental cuisine was brilliant but there's just one problem: it's turned me into a dining diva. From now on, I want my food all-singing and all-dancing. If my meal doesn't come with a sprinkling of popping candy or a cloud of smoke, I'll be sending it back!