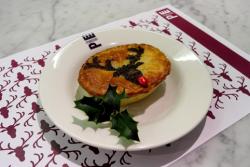 With Christmas coming up next weekend, you will probably have had more than your fair share of turkey this season. Why not opt for something a little different from Battersea Pie Station?
Throughout December, Battersea Pie Station will be serving up it's limited edition pie, "The Rudolph". Yes you guessed it – they have created a reindeer pie, made from organic free-range reindeer meat sourced from Swedish ranches.
The reindeer is cooked in a red wine and mushroom sauce then baked in a puff pastry crust. Foodepedia tried one with some mash and gravy and it is delicious. The meat is very gamey in taste but with a texture similar to that of beef.
The pie is priced at £6 to eat in or £5 for takeaway.
Try one yourself from Battersea PIE Station, Lower Ground Floor, 28 The Market, Covent Garden, WC2E 8RA