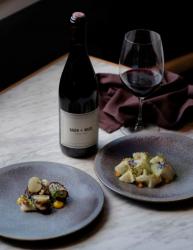 On Wednesday 18th March, Sager + Wilde and the Typing Room will join forces to host a collaborative wine dinner for one night only.
An eight course tasting menu will pair Chef Lee Westcott's signature style of innovative cooking with Californian wines selected by Michael & Charlotte Sager-Wilde, as featured on the list at Sager + Wilde, their neighbouring wine bar and kitchen.
The menu is priced at £150, inclusive of wines and service, and is available throughout the evening.
 Together with Lee Westcott and the team at Typing Room, this event will showcase the talents of two teams. "I'm really excited about these guys coming in and pairing their wines with my menu, and dishes they wouldn't typically work with." explains Lee. "This event stems from a desire to show off the food and drink our local community has to offer."
Lee's menu of eight dishes such as mackerel, passion fruit and kohlrabi and Celeriac, foie gras, mustard and walnut will be paired with some of Sager + Wilde's rarest bottles including Scholium Project, Pierre Breton, JJ Prum and Pierre Morey.
Event information: SAGER + WILDE MEETS TYPING ROOM Date: Wednesday 18th March 2015 Price: £150 (includes 8 courses, wines and service) Times: 6pm – 10.30pm To book: reservations@typingroom.com