Proving that giving up alcohol doesn't mean a total overhaul on indulging; this drinking experience opens up the fascinating and flavourful world of rare teas.

The month-long residency will be a chance to sample Saicho's elegant range of gastronomic teas alongside some impressive tea- led cocktails, curated by Gareth Evans (Best Bartender in GB at Diageo's Word Class 2013, formerlyPollen Street Social and The Blind Pig) as well as a dedicated food pairing menu.
An enlivening twist on the classic food and wine pairings, for those who chose not to drink, or keen to explore the burgeoning world of sparkling teas.

Shanghai-style braised pork belly with steamed wholegrain rice and greens (£12) is the perfect accompaniment to Saicho's bittersweet Hojicha sparkling tea. Saicho's Eight Immortals has been paired with moreish duck spring rolls, served with Napa cabbage and an Eight Immortals infused hoi sin sauce (£8). The sweetest of the teas, Jasmine is utilised to delicious effect in a Southeast Asian dessert known as Che Banh Lot, which comprises Pandan coconut jelly, compressed mango, Jasmine snow tea, alongside a vanilla Tuille biscuit (£10).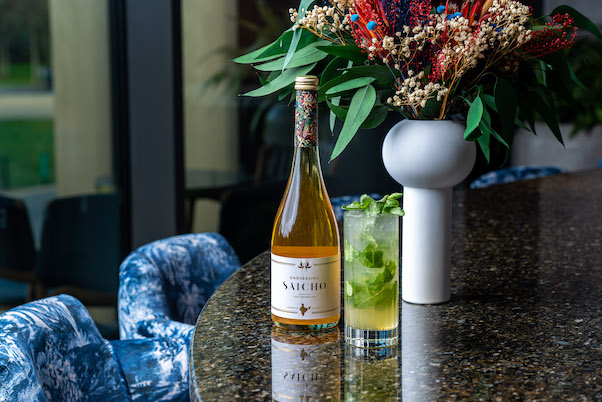 Each of Saicho's unique expressions; Darjeeling, Hojicha, Jasmine and the newly launched rare Eight Immortals tea are cold-brewed for twenty-four hours then finely balanced with a hint of sweetness and a dash of acidity. As a finishing touch, sparkling the tea enhances the flavour and creates an effervescent drink, designed to be served chilled in a Champagne flute or coupe.
Rather like single estate wines, each tea comes from a specific region and the variety expressed in that bottle has been carefully selected to accompany certain foods, flavours and textures. The Gantry has designed a new small plates menu, each dish is designed to be served alongside each of Saicho's uniquely flavoured teas.
Situated on the 1st Floor, within the hotel's main dining spot, Union Social. The pop-up will occupy an eye-catching illuminated counter bar, with its own banquette seating and private outdoor terrace. Thebintimate bar area will be accented with bouquets of preserved flowers and feathers, designed to echo the native countries of each of Saicho's flavoured teas, including peacock feathers from India to green pheasant feathers and foliage from Japan.
Guests will be transported from the dull skies of London in January, across Asia and beyond through some of the world's most exquisite teas.
Saicho's pop up bar will run from Monday 10th January – Monday 7th February
www.thegantrylondon.com
@thegantrylondon
www.saichodrinks.com
@saichodrinks
THE GANTRY, 40 Celebration Avenue, Stratford London E20 1DB