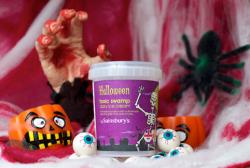 Sainsbury's is launching a limited edition spooky Halloween ice-cream on the 12th of October.
The spine-chilling dairy ice cream is a mint flavoured 'toxic sludge' with swirls of strawberry 'zombie blood' and white chocolate 'crunchy broken bones'. The product is designed by Christopher George, 9, from Hampshire, winner of Sainsbury's Halloween I-Scream Competition.
Lianna Costin, Sainsbury's Ice Cream Technologist, said: 'Christopher's ice cream idea won because not only did the flavours work so well together, but it looked the most 'scary' when we served it up. The fun bit is that Christopher will now get to see his ice-cream creation sold on shelves of Sainsbury's stores nationwide! A deserving and spooky winner."
The 500ml pots, priced at £2 will be in 350 stores for three weeks from the 12th October.