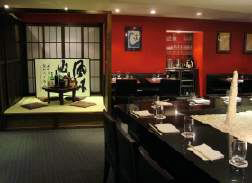 The arrival of the beautiful and delicate cherry blossoms is widely celebrated across Japan. Cherry blossoms or sakura, symbolise the return of spring and are seen as a good omen. Their short-lived bloom – often no longer than a week, is celebrated with viewings (hanami), picnics under the trees and sake drinking – a petal falling into a sake cup is seen as good luck. Best dates for viewing vary across Japan, from early April in the south to the beginning of May in the north.
Saki in Smithfield has a month long Cherry Blossom Season Menu to celebrate this wonderful tradition. This seven course, Chef's Omakase menu (literally translated 'as chef likes') is a real treat, featuring cherry leaf and blossoms, which are quite difficult to get hold of, as well as another seasonal edible Japanese flower, nanohana, which is green in colour. The beautiful pale pink colour of the sakura also comes through in the presentation – from petal shaped chopstick rests to the colour of the menus and garnishes on the plates.
The menu is available paired with wine and sake and the highlight of the pairings is the final course – Homemade Cherry Blossom Ice Cream, which is paired with Hazakura, a cocktail made by Saki for the occasion: cherry leaf infused Tokiwa shochu from Akashi-Tai, green tea liqueur and layered with azuki liqueur. It is served in a shot glass.
Chef's Omakase Tasting Menu Yamazakura
Sakizuke: Seared Sea Bass and Nanohana Flower with Ume Plum Sauce
Impero Blanc de Pinot Noir 2005, Marches, Italy
Hassun: Chef's Assorted Delicacy of the season* – Grilled Red Snapper, Braised Duck Fillet, White Asparagus Ohitashi, Young Bamboo Shoot, Sakura Daikon
Hakkaisan Junmai Ginjo Sake, Fukui, Japan (served chilled)
Mushimono: Cherry Leaf Wrapped Turbot and Domyoji Dumpling Sakura-Mushi with Gin-An Sauce
Urakasumi Junmai, Miyagi, Japan (served chilled)
Agemono: Lobster and Eryngii Tempura with Black Vinegar Sauce
Akashi-Tai Genmai Yamadanishiki 2002 Brown Rice Sake, Hyogo, Japan (served ambient)
Yakimono: Saikyo Miso Marinated Black Cod
Chateau Ste Michelle Col Solare 2001, Columbia Valley, USA (served ambient)
Sushi: Assorted Nigiri and Maki Sushi served with Miso Soup
Daishichi Kimoto Junmai Sake, Fukushima, Japan (served warm)
Dessert: Chef's Dessert Special -Homemade Sakura Ice Cream
Hazakura cocktail
*Chef's Delicacy course (Hassun) will change weekly, according to market availability
The Cherry Blossom Chef's Omakase Menu is priced at £60 per head or at £99.50 including wine and sake pairings. The Cherry Blossom Ice Cream will also be available to try separately with the Hazakura cocktail priced at £8.50. The menu will be available from 1st April to mid May.
In the UK, cherry blossoms can be viewed in the Batsford Arboretum in Gloucestershire and in Lamer Wood Country Club in Hertfordshire, which has a promenade of 30 cherry trees. In London, there are several cherry trees in Hyde Park and in Kew Gardens, there is a Cherry Walk with 22 trees.
Tatami Floor Dining Experience
To launch the Cherry Blossom Season, Saki is also introducing their new Tatami Room. Traditionally made by Ominato Bunkichi Shoten in Japan, it seats up to five people on the tatami mat with cushions and a low table. To book a table or the Tatami Room (from Monday, 6th April), please contact Saki on 020 7489 7033.
Saki Bar and Food Emporium, 4 West Smithfield, EC1A 9JX, Tel. 020 7489 7033 www.saki-food.com