There's always something. No matter how military the operation, how many flipcharts and spreadsheets and iPhone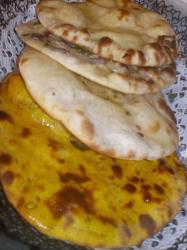 reminders you've got going on, the Christmas store is guaranteed to be bereft of at least one item that at least one member of the festive clan deems essential to their seasonal enjoyment.'But it won't be the SAME,' they wail, although you can wager, that after the fizz and the stocking swag and the snacks and the nibbles, the cataclysmic absence will matter not one jot.
And, actually, maybe'not being the same' is a good thing. A direct challenge, in fact, to go all Bear Grylls and forage for edibles to save the sacred day purloined from a severely limited selection of retailers. Sod the supermarket- which, these days is closed for less time than it takes Santa to whizz around the world anyway- and turn ill-preparation into an adventure, substituting unusual goodies purchased from London's plethora of global grocers for the usual bland British banality.
One of the biggest beauties of London's genetic makeup is that, day or night, you're never short of pint of milk or a spare loo roll. On Christmas Day, for Turkish, Chinese, or Indian shopkeepers, it's business as usual- providing a fantastic mutually beneficial opportunity for them to coin it in and us to replenish rapidly dwindling stocks. Of course there's generally a decent rosta of overpriced British brands and familiar fodder, but it's Christmas, innit. Time for something special.
When it's brunch that's the stumbling block, think outside the (bread) box. If there's a bakery where you can hear the pitta-patter of fresh flatbread;, tandoor-blistered family-sized naan' or obsene ovals of sesame-sprinkled pide for mere pence, stock up- and remember it when you discover the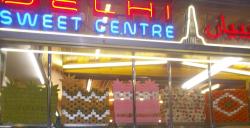 supermarket French stick is hard enough to bop a belligerent brother with come the Boxing Day buffet.
Bugger the Buck's Fizz, and glug your celebratory Champers topped off with a dash of tinned Alphonso mango puree, sour cherry juice or peach nectar. Even the most diminutive super-charged Turkish coffee will soon put the lead back in any flagging pencils, whilst fragrant Chinese and Indian teas soothe frayed nerves and are more posh than PG. See? It's suddenly beginning to feel a lot like Christmas, albeit not your usual.
If it's lunch that's lacking, can the cranberry sauce and pppick up a pickle- Indian, perhaps, or some mouth-puckering Chinese preserved veggies. From the Turkish supermarket, a sucuk'd make a succulent substitute for a chipolata, and a nice barrel-aged feta might sit nicely on a cheeseboard. Industrial-sized vats of hummus and taramasalata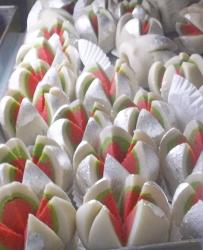 will satisfy more stomachs than puny, overpriced supermarket servings. And scoop up a packet of pappads or Chinese crackers to scoop'em up.
Stuck for snacks? Keep your eye out for cabinets stuffed with fresh, often home-made samosas and bhajis; borek and pides; or steamed pork buns. The freezer is your friend, too, yielding savouries more innovative then Iceland- paratha pockets to pop in the toaster; dainty dim sum; frozen filo pastry or big fat falafel. For committed cooks, bushels of freakishly fresh herbage, buckets of yogurt and, an allotment's-worth of exotic veg will add interest to the most rubbish of roasts.
No one really likes Christmas pud anyway. A banquet of fresh fruit, syrup-y baklava and rice pudding; creamy kulfi and a rainbow of Indian sweeties; or light steamed green-tea sponges, chewy filled mochi and mooncakes, on the other hand… Add to the feast a few packs of Pocky sticks, a box or two of Turkish delight, and a jewel-like selection of fruits and nuts, and you've even got fodder for the fuzzy fire-side food coma sorted.
And, when the festive fog clears and the superstore slings open its doors to sighs of relief, you can rest safe in the knowledge that You Survived! Not only that- you helped a small local business do the same, and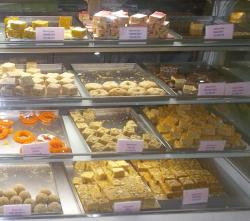 hopefully discovered a few new festive favourites whilst doing so.  You foraged damn fine fodder better than Bear Grylls, and avoided the social shunning caused by the bare shelf into the bargain. Go forth with your nifty new-found nibbles, and remember, that local shop is for life- not just for Christmas.