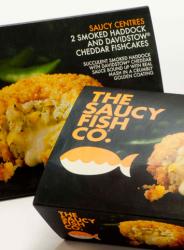 The Saucy Fish Co., who pride themselves on the high fish content in their products, has launched two new fishcakes that contain a sauce filled centre. The new flavours are Salmon and Hollandaise and Smoked Haddock and Davidstow Cheddar®.
The Salmon and Hollandaise fishcakes are made from flakes of salmon mixed with creamy mashed potato and a Hollandaise sauce centre – all encased in a golden crumb coating, while the Smoked Haddock and Davidstow Cheddar® fishcakes combine a rich cheese sauce centre with a smoked haddock casing, mash potato and layer of golden crispy breadcrumbs.
The Saucy Fish Co's products are available exclusively in Tesco's, where they also have a recipe booklet. The £1 recipe booklet, 50p of which will be donated to Marie Curie Cancer Care, contains 16 recipes and also a 50p coupon for Saucy Fish Co. products.