Ex-Nobu head chef Scott Hallsworth is making West End waves with some pretty funky fusion at the new London outpost of Wabi. His modern Japanese food looks good and gor, blimey, it tastes good. With an emphasis on clean, light dishes – albeit abounding with complex flavours – it's a safe bet it does you a fair bit of good, too. For all his weird-and-wonderful culinary wizardry, Scott maintains a deceptively calm composure. But there's a lot going in the head of that genial bloke with the easy grin…
'Fusion' can yield notoriously unsuccessful results in the wrong hands- how do you balance creative innovation with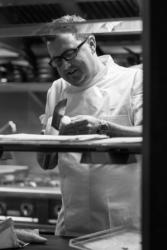 developing a dish that makes sense on the plate?
Well,'fusion' became a dirty word for that exact reason. The trouble with this supposed'fusion' cuisine was that chefs started producing extreme combinations which weren't grounded or based on anything in particular. I primarily think about Japanese flavours and techniques, from there I'll be inspired by European ingredients or dishes.
The focus always needs to remain rooted in some way to Japanese cuisine. I may pull apart a Western dish like lobster and chips, then apply Japanese techniques and flavours. In the end, it won't be lobster and chips as we know it anymore, but a brand new dish altogether.  
What are the differences in what you do at the original Wabi in Horsham and the new London venture?
The restaurants cater to different audiences. In Horsham, our proposition is Izakaya-based with well-priced, approachable dishes. The environment is quite casual and our cocktail lounge is a major part of our offering. London is more of our flagship restaurant – offering a high-end menu with all the trimmings! We have spent more on decor, with special touches that wouldn't work in Horsham, like using an excellent sommelier and building a pastry bar.
Training as a sushi chef formally is pretty full on- how are your own skills with sushi and sashimi?
I'm in no way a sushi chef, my sashimi is better than my sushi, luckily at Wabi we have a team of sushi chefs who are better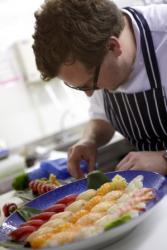 at it than me.
Where do you find your culinary inspiration?
Inspiration can come from anywhere. I get inspired from great dining experiences, like Tickets in Barcelona, or just from cooking pizza-dogs with my kid. There is inspiration all around.
How do you stay motivated to keep pushing the menu forward and evolving?
I don't think there is a formula for that, I guess it's a bit like somebody who writes songs, sometimes it just happens, fortunately for me it happens often.
What techniques and pieces of kitchen kit are you currently experimenting with?
We are working on a dish using a tandoor oven, we love our new stirred water bath for cooking salmon and senior sous-chef Paul is working on various concoctions at home with his rotary evaporator.
What new ingredients are you excited about for 2013?
Some of the world's most outstanding Wagyu beef is produced by a guy in Australia named David Blackmore, he is hoping to be able to ship to UK this year. There has never been anything like it in this country. Also, I'm looking forward to seeing what turns up this spring/summer from our friends at Nama Yasai; an organic Japanese vegetable grower in East Sussex.
How would you advise the uninitiated to order at Wabi?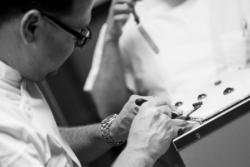 I'd recommend taking a dish or two from each sub-category of the menu, you'll end up with a great cross-section of flavours, textures and temperatures.
What dishes are you proudest of on the Wabi London menu?
The BBQ pork buns or the crispy quail. Simply because they always spark such great reactions from our guests.
Which other well-known dishes do you wish you could lay claim to?
I'm pleased with my own dishes!
Where else do you like to eat in London?
Momo, Pizza East, Pollen Street Social, and Japanese restaurant Dinings for sushi and Jap-tapas.
What's your favourite cocktail from Wabi's list?
I have to be biased and say the Bonzai Kitten, my very own creation which I came up with during a boozy summer evening many years ago when we lived in Southeast London. Sake, Lime Juice, Calpis and Vodka – all shaken with plenty of ice.
Outside the kitchen, how do you spend your downtime?
I head back to Horsham and spend time with my wife and kids. I also like to mountain bike, murder my guitar and, during summer, get to the cricket.
Scott Hallsworth is the head chef at Wabi London, 36-38 Kingsway, WC2B 6EY. For more information and to book, visit www.wabirestaurants.com