We won't bore you with the news that baking's big business. We will, however, regale you with the tale that Fortnum & Mason are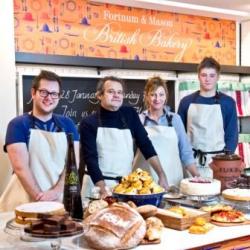 launching a temporary bakery and stoking shopper's fires with goodies from a regularly changing roster of top chefs including Great Brit Mark Hix and jovial GBBO judge Paul Hollywood.
Each fortnight, the guest baker will create their own specialities to serve instore at the cafe, and bare their buns to delighted diners in a series of demos. If the skilled cooks inspire you to improve your own soggy bottoms, Fortnum's British Bakery shop will be purveying everything from cocoa powder to cookie cutters to cookbooks.
You'll also be helping food writer Rose Prince cover her kids' pocket money when their Pocket Bakery has its residence. That'Boy Who Bakes', Edd Kimber, will be encouraging you to use your loaf, as will MasterChef finalist Stacie Stewart. There's also the chance to have dinner with the tasty Lorraine Pascale, and take afternoon tea with Mary Berry- surely the sweetest of baking legends.
The British Bakery programme runs at Fortnum and Mason from the end of January through to April. To find out more, visit www.fortnumandmason.com and reserve spaces on 0845 602 5694.