They say absinthe possesses potent mind-bending properties. And Wabi's'Asakusa'- a fig-and-violet,'green fairy'-laced
decoction – certainly sets me up for a surreal meal which begins with scratchings that tell the eye'pork' but scream'rice' in the mouth, and ends with a dessert of more 'chocolate textures' than you could shake a Flake at. It's not just the presence of alcohol that raises the spirits – my wagon-bound compatriot is similarly'Shakuren' by a particularly fruity virgin number.
Those bar snacks are just the first glimpse of ex-Nobu head chef Scott Hallsworth's edible ingenuity. The gnarly twists are made of a paste-like rice slurry that's dehydrated, cut into shards and deep-fried. The kitchen experiments with flavourings, turning anything from yuzu juice to lobster shells into powders used to sprinkle on a little magic. The staff seem to think Scott also has a little magic of his own, many having left positions at top establishments to join him in this new venture.
They're not in his thrall, though – the whole operation feels pretty egalitarian and organic, with open kitchens and Scott at the helm of a relaxed, affable open kitchen. The'zen' atmosphere sits nicely with the Japanese food, and although the decor has that slick'private members club' thing going on, there's little snobbery in evidence. It's always pleasing when staff have clearly sampled the menu extensively and have opinions – even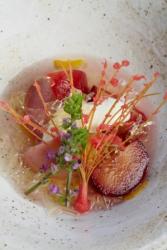 more so when they're not determined to force them on you.
The menu features various sub-headings – cold and raw; something crunchy; warm bites. Chilled soba pancakes folded round king crab dressed with citrussy mayo are like the most exemplary blinis, garnished with the beloved puffed soba grains Scott strews with gay abandon to add crunch to many dishes. We dip into a green salad with an almost Mexican-tasting smoky sesame dressing then ration the remainder out through the meal like a side veggie.
Our 'crispy frieds' are delectable as crispy frieds inevitably are; squid kara-age with an apple-crisp wasabi dip, and mixed veg tempura looking like so many beautiful aliens. They're a little oilier than most, but tellingly, all that we leave behind is a few grease stains. I have a pang of food envy as a wigwam of langoustine tempura hits the next table, described as'the most incredible scampi I've ever eaten', but a nifty seabass number Scott's just rustled up bucks me up quicksmart.
The chef has created a sort of'risotto' with olive oil, cooked soba grains and spring onion, topped with scorched cauliflower, nuggets of sweet roasted bass and more of those soba crispies. It's a clever dish, the richness cut with a vinegary piquancy. A full fillet of the same beast is doused with soy and truffle butter, the smokey, earthy flavours the perfect counterpoint to its pearly flesh. Truffle also spikes the broth for a soft-poached egg dish – for me, the only slight low of the meal.
But that's a relative comparison. It's clear the'quality' bar has been set pretty high even before we chomp away on tea-
smoked lamb chops dunked in spicy Korean miso and savour silky squid tentacles in fruity yellow chilli sauce. And anointing Wabi's sweet BBQ pork belly buns with a treacle-y soy-peanut relish is a pretty religious experience even for a pair of atheists. The feast is as visual as edible – a steady procession of fantastical creations that leaves you replete, not stuffed.
Leaving room for sushi. At the tail end of a meal. It's a new one on me, but a concept that both makes sense and makes for very pleasant eating, providing starchy bulk and refreshing the palate. The soft shell crab roll juxtaposes the hot crunch of the sweet meat with cool, creamy avocado and toothsome rice; a mixed set of nigiri brings top-notch toro, unagi, beef, and a decadent fois gras, pineapple and eel combo served in a crisp wafer basket. Clever stuff.
A Grand Torino revs me up for pud – best described as a grapefruit-y Negroni having it very large indeed. Wabi tiramisu is a decent deconstruction, featuring, variously, amaretto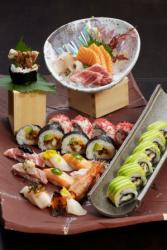 jelly, mascarpone, flavoured cream, cocoa nibs and ganache; but the Chocol8 is the star, a dessert delivering a beguiling octet of textures including sago-sized mochi, dehydrated sponge, and a chocolate sphere revealing sorbet and mousse after a satisfying spoon-smash.
It's one of those meals that leaves you with a great big grin like a ridiculous lolloping Labrador, unmistakably high-end but executed with substance and sufficient humour to absolve it of any pretension. Wabi's whole is far more than the sum of its parts, a rare find where chef, team, and menu and cooking are in sychronicity. Everyone involved with the operation seems pretty pleased with their lot; I'm a lot pleased to have dined with them.