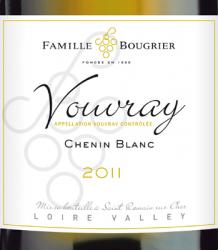 Ah, the Loire Valley and its rich array of stylish and sophisticated wines.
The region is rarely at the forefront of an English drinker's consciousness like Burgundy, Bordeaux or the Rhône; but to those in the know, this broad and productive sweep of La Belle France has treasures aplenty.
The white wine region of Vouvray near the city of Tours specialises largely in the Chenin Blanc grape, vinified in a variety of styles from dry to full-on sweet dessert wines or fizz-bang sparklers.
Among these, I most closely identify with the off-dry (or demi-sec) still wines which, at their best, provide one of the most divinely appealing aperitifs available.
A gorgeous example from producers'Famille Bougrier' is the Vouvray Chenin Blanc 2011 (Harveys £7.48) which beguiles the neophyte with a light nose of pineapple and summer lawns then hits the palate with a big fat creamy whack of soft rich fruit and buttered almonds.
Accustomise yourself to the natural sweetness,  it's elegant not cloying, and you'll soon be looking for a refill. In fact take the bottle to the table with some creative veggie dishes, a Moroccan couscous or spiced lentils.
If the sweeter style isn't for you, it's still possible to sail down the Loire with the Famille Bougrier and their gold medal winning Touraine Sauvignon Blanc 2011 which produced one of the longest ooo's in the Foodepedia wine office this January.
With a super-long palate of honeyed mandarin, lime, gooseberry and candied orange peel it is available from Marks & Spencer (£10.49) who have an uncanny ability to spot this kind of quality for their shelves.
Give the Vouvray a try, however, and you may make special friends with this underappreciated classic.