Watching big name egos wrangling for supremacy over talented underdogs will be even funnier on this year's The Great British Menu, which culminates in a Comic Relief charity banquet. Michelin-starred Adam Simmonds sharpened his knives for the first time, shaking his skillet and waggling his whites at fellow Southeast chefs Tom Aitkens and Matt Gillian. The chef is still a mite dazed from the whole experience, which saw the former Raymond Blanc protege mentored by the boisterous Richard Corrigan.
Adam, Danesfield House Hotel and Spa's Executive chef, claimed,'It's a completely different experience to the day job. When you're involved in filming The Great British Menu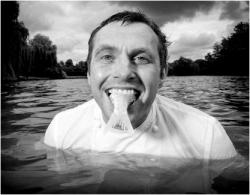 , you have your head down and you're pulled left, right and centre. It's only when you finish the show and come away from it you realize what you've achieved.' He won't be drawn on the outcome, playing the  'enigmatic' card with the blandishment,'It was fantastic to be in the show up against two great chefs. I'm very honoured.'
Seeing as the show's in aid of Comic Relief, there's bound to be a fair bit of larking about – for the past 8 years, the series has featured a number of gastronomic japesters amongst the country's cheffing elite, notably Richard Corrigan and Glynn Purnell. But there's no denying that when the winner's title is at stake, cooking becomes a deadly serious business. Matthew Fort, Oliver Peyton and Prue Leith might like to be measured in their judgements, lest they encounter that Great British favourite – a custard pie to the face.
The Great British Menu starts on January 28, 2013 on BBC2.
For more information on Adam Simmonds, visit www.adamsimmonds.com