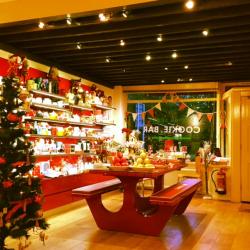 This is perhaps the perfect time of year to visit the Cookie Bar in the gorgeously sleepy village of Hindhead, Surrey.  Not only is their little red café exceptionally "merry and bright", but all their profits go to good causes;  Half their profits support Stepping Stones School, and half their profits support COINS Foundation's work internationally. The Cookie Bar also provides valuable work experience in a forgiving environment for students, including those with disabilities. Working in the Cookie Bar helps to increase their skills and confidence.
When you visit the Cookie Bar or buy their cookies online, you can feel genuinely "good" about yourself.  It's a very exciting social enterprise with plans to expand, and it's impossible to leave their café without feeling festive. 
Their products don't just taste sweet, they actually ARE sweet, and if you are feeling guilty about the extra calories, just take a long walk at the nearby Devil's Punchbowl, until you feel positively angelic again. 
We think this is a great time of year to support restaurants and cafes that are making a difference – especially if this involves eating some delicious cakes and cookies! 
Watch their video to find out more: