Who hasn't had that awful feeling of sitting down, stomach pleasantly a-rumble, only to have those stirrings of gastric yearning turn to icy needles of dread upon having a cheap paper crown plonked on your bonce and reading the awful incantation'prawn cocktail; turkey with all the trimmings; Christmas pudding; mince pies and coffee' on a holly-trimmed menu?
So we'd like to proffer a few alternatives. Catching up with mates, distant family, or letting off steam with the work buddies you actually like is great- and even making merry with those you ordinarily despise can be palatable if the drinks are flowing and the food's a treat rather than a chore. We've got exotic menus, historical menus and local food menus. So don't endure- enjoy.
1 Lombard Street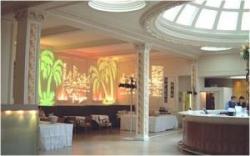 Head chef Juri Ravagli has gone all Henry VIII with his'ten birds' Tudor concept for private dining groups. The multiple'bird-in-a-bird' culinary chimera features quail; pigeons squab and wood; partridge; mallard; Guinea fowl; pheasant; Barbary and Aylesbury duck; and Goose. Each feathered friend is deboned, dunked in a unique marinade and stuffed, before being assembled into le grand gastro-event and served forth with seasonal greens and root veg.
For more on the 1 Lombard Street Tudor Roast, priced at £995 and serving 20-25 guests, visit www.1lombardstreet.com The menu requires one week's notice.
Cinnamon Soho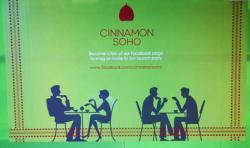 Cinnamon Soho's always got a bit of a festive buzz, and the venue's signature Cinnamon Bellini already tastes like Christmas in a glass. So it's sure to get you in the mood, with the option of hiring the entire basement for large functions. Vivek Singh's quirky approach is evident in set menus which roam the regions, from Bengali veg cakes to Rajasthani lamb and corn curry. Sticky ginger toffee pud is a suitably rib-sticking finale.'Joho Soho!', as they exclaim knowingly here-'whatever happens'…
Cinnamon Soho's festive menus start from £20pp. For more information and to book, visit www.cinnamon-kitchen.com/soho-home
Aveqia
Scandinavians know a thing or two about Christmas, and new Swedish restaurant Aveqia is offering a convivial four-course'journey' to groups seeking festive frolics. The menu kicks off with rich foie gras with winter apples, grilled brioche and almond toffees, moving turkey-lessly on to spice-flamed reindeer with side of pork, chanterelles and lingonberry vinaigrette and duck with celeriac cream, Waldorf salad and mulled wine sauce. Dessert is similarly wordy and delicious:  Chocolate crème with bergamot, fresh and dried meringue and sea buckthorn and orange sorbet.  
For more information on Aveqia's Christmas menus and to book, visit www.aveqia.co.uk
Cabana
Get your Brazilian booty in shape with Cabana's festive São Paolo menu. Street food feasts are simple to share and usually deliver something to suit- and sate- all-comers. Kick off with Harold's cornbread, crunchy rice bolinhos and chicken coxinhas. Choose a meaty skewer to yourself for mains- go for festive gobble with the turkey, bacon and cranberry-glazed chipolata option, then fight over shared sides like 'biro-biro' rice, black beans and sweet potato fries. Puds are heavy on caramel- both the cheesecake and flourless choc options dollop on the doce de leite.
Cabana's three-course menu costs £24.95 per person. For more information and to book, visit  www.cabana-brasil.com
PipsDish Kitchen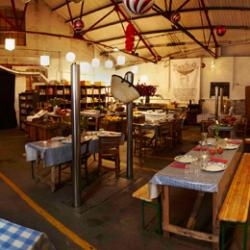 If you don't go in for all that silver service nonsense, perhaps eating in an old Citroën garage is more up your street. Claiming to be an 'agriturismo dining experience', said garage's BYO menu runs from Thursday to Saturday, with private group hire on offer the remainder of the week. Chef Philip Dundas is big into seasonal, local produce, so expect dishes like parsnip & tarragon broth, roast Galloway topside with lemon roast potatoes and veg, and Christmas pudding'Eton mess'. If you're four for dinner, you might even nab the table in a converted Citroën H Van.
PipsDish Kitchen's three-course festive menu costs £30pp and is available Thursday to Sunday. Groups of up to 45 can hire the entire venue during the week.  For more information and to book, visit www.pipsdish.co.uk
Benito's Hat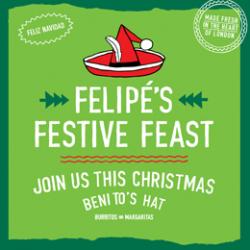 The alliterative'Felipe's Festive Feast' at Benito's Hat is an affordable affair- a good one to keep in mind when seasonal cheer is on the cards but the credit card does not welcome the seasonal bashing.  It's also good pre-party fare, with homemade chips'n'dips performing the dual functions of providing a good stomach lining for a tipsy evening, and opening the appetite for the bottomless tacos to follow. For pud, there's traditional tres leches ('three milks') cake- well, they do reckon a glass of milk staves off alcoholic effects- so with a trio, you'll be laughing.
The menu is available to groups of 6 and larger. For more information and to book, visit www.benitos-hat.com
Namaaste Kitchen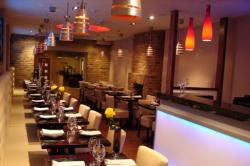 Sabir Karim's Namaaste Kitchen is conveniently nestled up Parkway- handy for a few festive Camden-based shenanigans, perhaps. To start, Anglo-Indian chicken livers with Granny Smith apples make a welcome change from pate to start. The turkey's present- albeit roasted in a star anise marinade with plum sauce and Indian-ised trimmings. There's also a gastronomic tasting menu on the Big Day itself, when all six courses will be paired with complimentary wines- with fizz to kick things off.
Namaaste Kitchen's Christmas menus start from £15.95pp. For more information and to book, visit www.namaastekitchen.co.uk
Big Easy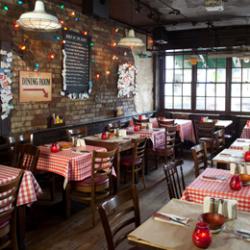 As the restaurant name suggests, Big Easy is the one to visit with a large, laid-back group for a relaxed, drawn out lunch or dinner. Festive cocktails like the Mince Pie Martini and the intriguing- and, allegedly-'show-stopping' Disappearing Christmas Tree slip down a treat, and help the family-style menus of fodder like mac'n'cheese, shrimp'n'lobster, vast barbeque sharing platters, tortillas, fries and stuffed jalapenos make their merry way down your neck.
For more information and to book, visit www.bigeasy.co.uk
the fat of the land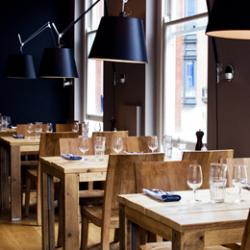 Tapas equal more variety and less commitment, particularly when you're a crowd. Catalonian gastropub the fat of the land's menu offers big groups the chance to nibble-or feast, as is your wont- on Iberian cured meats, pork meatballs de la vera, patatas bravas and tortilla espagnola. Smaller gangs can try more substantial dishes like leg of lamb stuffed with sultanas, bacon, pears and rosemary; roast turkey breast stuffed with apple and fried apricot; or baked hake with cava sauce.
the fat of the land's Christmas menu costs £22pp and is available to parties of 15 and over. The three-course menu costs £28pp for parties of 10 and over. For more information and to book, visit www.thefatoftheland.co.uk