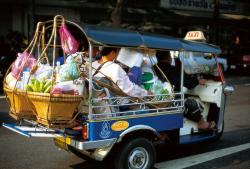 From 14-30 July, Selfridges London, in partnership with the Royal Thai Embassy, Thai Trade Centre and Tourism Authority of Thailand, will be bringing a taste of the exotic to the Food Hall and selected restaurants.
Over the fortnight, customers will be able to join in a celebration of Thai food and culture, with live expert cooking demos, tastings, modern and traditional Thai dance performances and even puppet shows.
Thailand has commissioned GFC, a specialist food and drink agency, to create and run the event, which aims to bring the true flavours and senses of Thailand to Oxford Street, with regional specialities and traditional delights normally enjoyed by the locals.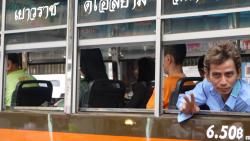 A selection of street food carts run by some of London's top Thai restaurants will sell authentic snacks, including Som Tam (spicy papaya salad), a dedicated Mieng Kham stall (wrapped betel leaves stuffed with nuts, dried shrimp, chillis and shallots), and a Thai dessert cart featuring the iconic mango and sticky rice.
A tropical fruit stand and juice bar will offer whole fruits or whip up a cocktail of fresh vitamins and antioxidants in a glass, using a dazzling array of in season exotic fruits, from the familiar mango and dragon Fruit, to the unusual bael, rosella and mangosteen – destined to be this summer's superfruit owing to its high level of xanthones (potent antioxidants that are good for detoxification).
A wide range of exclusive snacks, confectionery and grocery products from Thailand will be available to purchase during the promotion. Customers will be able to sample authentic curry pastes and fish sauce, to more unusual concepts, such as the rice boutique, which will offer a variety of aged and flavoured rice, including GABA rice, a super food made up of four varieties of sprouted brown/unhusked grains.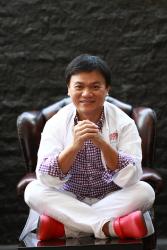 Renowned Thai chef, Pongtawat Ian Chalermkittichai who has been dazzling diners in New York, Bangkok and Mumbai with his contemporary Thai cuisine will be taking up a temporary residence at Hix Restaurant and Champagne Bar, offering a Thai menu of regional specialities together with Thai inspired cocktails.
Singha Beer, the oldest and the most popular Thai beer will create a temporary bar in Gordons Café on the 1st floor where customers can enjoy a traditional Thai snack menu, washed down with an ice cold lager or a selection of Thai cocktails. The Oyster & Seafood Bar on the ground floor will have a guest menu from Nahm.
The menus have been designed to take the diner on a brief journey through Thailand, featuring the cuisine of the north, the northeast (Isaan) through to the Royal Thai cuisine of the Central Region and finally the rich pungent style of the South.