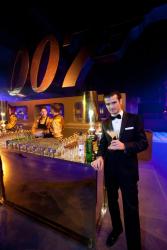 Hmm, the invitation to try out and then pen a couple of hundred words about a new James Bond themed cocktail seems like a dream assignment. However, for the unwary writer there is a veritable ocean of clichés to drown in and not even a man as heroic as Bond would be able to save your reputation. I will try my best to avoid these pitfalls, but the temptation, like the promise of an evening with Pussy Galore, might be impossible to resist.
Anyone with a passing acquaintance with the books and films will know of Bond's predilection for a drink. The Dom Perignon '53 in Goldfinger; sake served at the correct temperature of 98.4 degrees Fahrenheit in You Only Live Twice; the Vesper Martini from Casino Royale; and there's one other I can't quite remember, something served stirred, or maybe shaken?
Although this reputation for good taste has had a bit of a battering in the most recent film, Skyfall, with the revelation that Dutch brewers Heineken stumped up a boat load of cash to have Bond associated with their lager. Dom Perignon it ain't!
However, if you don't fancy propping up the bar in your bespoke dinner suit while swigging from a green bottle of continental lager, there are other options open to you. For example, you could take a trip to the American Bar at the Savoy, where they have a specially created cocktail in homage to Bond and his new film on the menu.
The Skyfall martini was developed especially for the world premiere of the film by Eric Lorincz and served up to the stars at the after show party. Obviously you and I did not receive an invite to this, but, like me, you can live out your Bond dreams by heading down to the Savoy in the company of your very own Bond / Bond-girl lookalike for an evening of cocktails and espionage.
The cocktail itself is a mix of Tanqueray Ten gin, Ketel One vodka, Americano, plum wine, lemon juice, yuzu juice and sugar syrup (Eric left out the kitchen sink), served in a champagne coupe with a single ice cube for company. So the key question is would Bond have approved? 
While I can't necessarily vouch for him, I am both devilishly handsome and handy in a tight spot, so I'll try. With quite a long list of ingredients the Skyfall could have been a bit fancy schmancy for Daniel Craig's new muscular Bond, but I reckon it was solidly alcoholic and grown up enough to satisfy his manly tastes. I didn't like that lone, floating ice cube (dilutes the booze), but I'm not one to split hairs, so it get's the thumbs up from this amateur agent!
An excuse isn't really required for an evening in the Savoy's famous American bar, although if you need one, make it your mission get past the doormen, infiltrate the inner sanctum of the bar and try out the Skyfall while we're all still gripped by Bond fever!
SKYFALL 
25ml Ketel One Vodka 
25ml Tanqueray No. TEN 
15ml Cocchi Americano 
10ml Plum Wine 
15ml Lemon Juice 
10ml Yuzu Juice 
15ml Sugar Syrup 
METHOD: Shake all the ingredients and strain into deep champagne coupette. Place a lump of ice into the drink and serve.