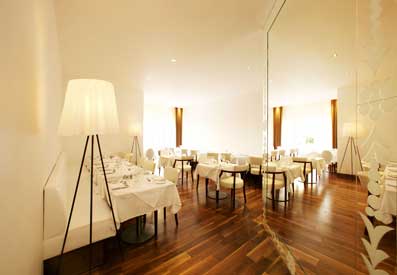 Crouch End, the London setting for numerous movies and even a horror short-story by Steven King is now home to a new restaurant. St James, on the site of Florians, hopes to bring in the neighbourhood crowd and with their sophisticated menu, attract diners from all over London. The new venue has a smart bar, a small, semi-private room ideal for groups, a bright restaurant, and a peaceful patio area.
Black marble, mirrored stainless steel, rich dark wood, leather, and velvet give the restaurant's atmosphere a retro feel. The bar has a classic, black and white theme, and leads onto the Blue Room, a party space featuring blue carpets, banquettes and curtains with low lighting. To the rear of the venue, the restaurant seats thirty-two, with white walls, napery and mirrors all reflecting natural day light that floods the room through huge doors opening out to a patio.
The kitchen is headed up by Simon Trussell who spent the last ten years at St James restaurant in Bushey. The main restaurant menu offers à la carte dishes including crispy belly of pork, sautéed Chinese greens with a sweet ginger and lime dressing; roast carrots and parsnips with a thyme jus and roast monkfish. Amongst the desserts are a classic tiramisu as well as Simon's signature dish, a Toblerone cheesecake.
A weekly changing Market Menu is also available with starters like chicken liver pate with toasted walnut bread and fruit chutney. A cocktail list features house creations such as English Winter Punch (fresh blackberries muddled with Plymouth dry gin, apple juice, grapefruit juice and soda then finished with a drizzle of Creme de Mure) or Sage Martini (muddled fresh sage shaken with Stolichnaya, Noilly Prat and apple juice). The bar serves a third, much lighter menu, ideal for lunch or to accompany a glass of wine or cocktails. Options include soup in a mug with toasted rustic bread; a charcuterie board; posh cheese on toast, or a steak sandwich.
St James is open daily: Monday – Wednesday midday – 11pm, Thurs – Saturday midday – 1am, and Sunday midday – 6pm (10pm in the bar).
For reservations call 020 8348 8348 or visit online at www.stjamesn8.co.uk. 4 Topsfield Parade, Middle Lane, Crouch End, London, N8 8PR