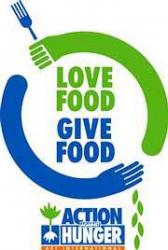 By day they walk amongst us, spending their weeks unnoticed, as they live out a normal life as teachers, journalists and doctors. But at the weekend, their super-human cooking powers come to life, turning their homes into pop-up restaurants  around London to become  'The Supperheroes Series'.
From August to October 2012, these culinary crusaders are working with international aid agency Action Against Hunger to help fight the injustice of child hunger around the world, conjuring up the most magical menus and using their own recipes to bring delicious food to paying diners – with all profits going towards this worthy cause. All events are organised in association with foodie activities website Edible Experiences and each and every Supperhero has their own range of secret weapon dishes from the four-corners of the globe, ranging from Singaporean Laksa Noodles, to Mauritian Curry and Italian Meatballs – guaranteed to entertain and satisfy their guests.
On Saturday 25th August, Cherry Smart AKA'Fed by Tang' will be creating a delightfully moreish menu showcasing the delicacies of Cantonese cooking. With a minimum donation of £30, be sure to BYO booze and enjoy an evening featuring everything from stir-fried clams with garlic to a wonderfully spicy skate wing with Sichuan pepper, to triple cooked mui-choi pork belly and stir-fried king prawns and Chinese chives. Dessert and traditional Chinese tea are also included.
For those seeking a taste of Mediterranean, look no further than Roberto & Fabio AKA'The Backdoor Kitchen',who will take diners on a gastronomic tour around Italy on Sunday 16th September. For a minimum donation of £30, this dynamic duo will take their inspiration from authentic Roman, Calabrian and Sicilian cuisine, serving up classic dishes ranging from chargrilled polenta with in San Daniele ham wrapped prawns to baby squid stuffed with mushroom and smoked salmon, Cacciatora style chicken. There is also a not-to-be-missed secret dessert.
On Saturday 27th October, Sumayya Jamil AKA'PukkaPaki' will be teaming up with Sheba AKA Absolute Indian for a tantalizing feast from the Indian sub-continent, as traditional classics are given her own unique twist for a minimum donation of £45. Served in the customary floor-seated style, highlights include a mix of dishes ranging from aubergine and pomegranate pakora fritters to Sindhi-style grilled lamp chops with rose petal garam masala as well Mughal-style almond cream and 'kola' 'Shahi Tukra' bread pudding topped with pistachios, saffron and silver leaf.
As an added incentive to dine and donate, guests who attend at least three Suppercheroes events during the campaign will be entered into a draw to win fabulous foodie prizes, including a delicious hamper of unearthed® goodies; a three hour Asian cookery masterclass for two at School of Wok in Covent Garden and an amazing'Sausage-Wrangling' course for two at The Butchery in London Bridge; where you can learn the secrets of how to make your own sausages!
For more information on all supperlicious events taking place throughout The Supperheroes Series, go to www.edibleexperiences.com/supperheroes or, if you think you have what it takes to hold your own, visit http://www.actionagainsthunger.org.uk/supperheroes/for more details on how you can become a supperhero too.
– ENDS –