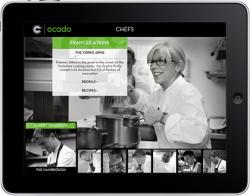 This week,recipe website Great British Chefs has launched a new Summertime App  in partnership with Ocado – showcasing an array of seasonal recipes from 21 of the country's most celebrated chefs.
With over 100 recipes from the likes of Marcus Wareing, Tom Aikens, Nathan Outlaw, Shaun Rankin, Richard Corrigan, Shaun Hill, Marcello Tully and Martin Wishart, Great British Chefs has generously chosen to donate profits from the app to Action Against Hunger, an international aid agency committed to saving the lives of malnourished children while providing communities with access to safe water and sustainable solutions to hunger.
Easy to use, the app will help people of all cooking abilities hone their skills and create their own award winning dishes. Food lovers can tap into an extensive library of recipes for inspiration, from irresistible dinner party menus, glamorous picnics to sumptuous BBQ recipes and delightful summer puddings, no matter where they are.
The Summertime App also includes instructional videos to help perfect your cooking skills such as making a mayonnaise or tips on how to prepare an artichoke. Users can search by individual ingredient, specific course or level of cooking complexity, making it so easy to decide what to cook.
Recipes showcased in the app range from classics with a twist such as Kedgeree, Coronation chicken salad, chicken and curry Kiev, cod scotch eggs, salmon skewers and Eton mess, to stunning summertime dinner party sensations such as Burrata with chickpea fritters & summer salad, ceviche of trout with avocado sorbet, monkfish with tomato, ginger and garlic, cod with pork belly, asparagus, roast red onion and blue cheese tarts and Pimms and Hendricks gin jelly.
Features of the Summertime App include:
–          Each recipe is beautifully shot and can be viewed through a stunning image gallery.
–          With every recipe linked through to an aggregated shopping basket, users can purchase all the ingredients from Ocado with a single click.
–          Featuring an intuitive navigation and search facility.
–          Integrated social media functionality allows users to share recipes, images and shopping lists across a variety of platforms and over email.
–          A voice control function allowing users to cook without even having to touch their iPad or iPhone.
–          Comprehensive information about the featured chefs includes clickable links to their restaurants and cookbook lists.
–          The app also incorporates a series of 25 "How to" mini films.
The Great British Chefs Summertime App follows the recent launch of the Feastive app and the original Recipes app. As before, the app comes with the same premium user experience, consistent and stunning photography and easy to follow information.
The Great British Chefs Summertime App is now available for £1.99 for the iPad and iPhone, with a minimum of £1.20 per purchase donated to Action Against Hunger (registered charity 1047501). 
Britain is one of the world's most exciting culinary experiences and the Summertime App will bring Great British Chefs to life in your own kitchen making it easy to create award-winning meals at home.