Bank Holiday Weekend Saturday 29th – Monday 31st August 2009
The UK's most popular Thai event, the biannual festival in Surrey, is fast approaching and this yea's extravaganza promises to be better than ever with over 40,000 visitors expected. The event is organised by Mudita Trust, a UK registered Charity supporting the secondary education of boys and girls from some of the poorest villages in Thailand helping prevent them from entering into the sex trade and instead using education as a tool in helping them make a better future.
The 7th Amazing Thailand Festival is being held at Secretts, Milford, Surrey with the theme of 'North and North-Eastern Thailand' which includes the hill tribes and Isaan. This year's delicious annual 3-day event will provide an exciting opportunity for everyone to learn more about Thailand's culture. The festival will be blessed by Buddhistmonks in the traditional Thai opening ceremony, and then officially opened at midday. Approximately 30 food stallswill then be showcasing traditional Thai dishes, prepared on the spot by chefs from the several Thai restaurants in London and beyond. Visitors will have the chance to taste a vast range of delectable Thai dishes including Tom-Yum, curries, aromatic salads and the famous stir-fried noodle dish, Pad-Thai and many more. For the sweeter palate, tempting delicate desserts, exotic fruit juices and herbal drinks will also be available with on site restaurants and supermarket stalls supplying all the ingredients for a Thai feast at home. For those who may have a thirst for something a little stronger a variety of Thai beers and Thai wines will be available in a beer tent and other specific locations around the site.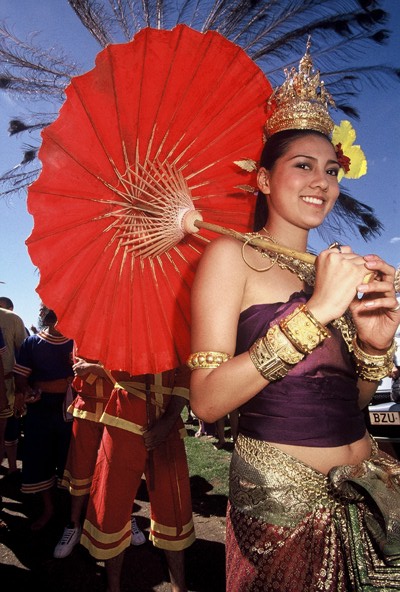 Over 40 craft stalls, panniers and even a floating market will be joining us this year displaying Thai silks, cottons, handicrafts and fresh orchids, scattered all over the site. Visitors to the authentic Thai market will be greeted by shoulder masseurs, pannier sellers and fortune-tellers. Travel agents and Thai property developers will also join us to make the seventh Amazing Thailand an event for all. Moreover, glittering performances of Thai national dances and martial arts displays will be staged each afternoon culminating in the enchanting Loy Krathong (festival of light) ceremony on Monday evening.
A highlight of the weekend will be the cookery demonstrations held twice daily and hosted by Mini C. On completion of each demonstration six volunteers will be selected and invited on stage to recreate one of Mini's dishes in a 'Cook Off' with the winner receiving a surprise gift. In addition, Thai handicraft and fruit carving demonstrations will astonish and impress.
Without a doubt, a visit to Amazing Thailand Festival is the most entertaining way for families and friends to spend their August Bank Holiday Weekend.
Amazing Thailand Festival, Saturday 29th – Monday 31st August, from 11.00am – 7pm daily
Entrance: £7.50 adult with one accompanying child free thereafter £3.00 children, free for babies and toddlers. Adult entrance includes entry into a prize draw with a top prize of 2 return flights to Thailand courtesy of Thai Airways, Festival Programme and a selection of vouchers redeemable at the stalls.