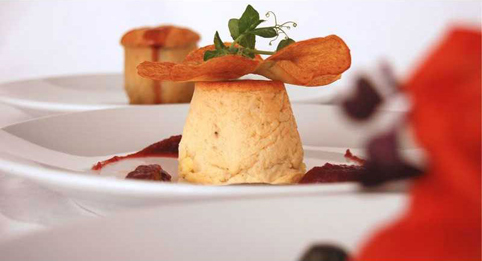 My brief experiment with vegetarianism foundered on the large rock that is a bacon roll. At 6 a.m your defences are down and the waft of ketchup is too much to resist. Maybe I would have stayed loyal to the cause had there been dishes like the ones Vanilla Black are creating.

Vanilla Black claims to be London's only fine-dining vegetarian restaurant and is recommended in the Michelin Guide.
Chef and owner Andrew Dargue is confident his unique creations, including Poached Duck Egg and Ribblesdale Pudding and Sweetcorn Créme Brulée and Smoked Paprika Biscuits, can convert even the most die-hard steak-lovers.
To encourage diners to enjoy some gourmet cooking veggie-style, this summer customers can enjoy 10% off their total bill every Monday, Tuesday and Wednesday until 31st August.
Andrew explains the inspiration behind Vanilla Black, "As a vegetarian myself, I often find the non non-meat options in restaurants to be bland and uninspiring. I wanted to show that it is possible to produce exceptional dishes without using meat or fish".
"We strive to create unusual combinations with just as much, if not more, flavour than a traditional meaty meal. I want to invite diners who would never normally choose vegetarian to be adventurous and put us to the test".
www.vanillablack.co.uk Vanilla Black, 17-18 Tooks Court, London, EC4A 1LB 10% discount available to all diners eating on Monday, Tuesday and Wednesday until 31st August 2009