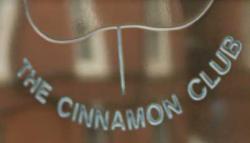 On Friday, 8th July, The Cinnamon Club's head chef Hari Nagaraj and Michael Cox from Wines of Chile will present a five-course menu specially created by Hari and The Cinnamon Club's executive chef Vivek Singh to show how the finest Chilean wines can bring out the best of the finest Indian food.
They will be joined by The Cinnamon Club's wine consultant, Laurent Chaniac, to take you on a voyage of discovery that will open your eyes to balancing flavours and spice in the glass with what's on your plate.
We don't want to spoil the surprise of the menu – it looks fabulous to us – but we can tell you that the wines, one for each course, come from some of the best-known wine regions of Chile: Conor Sur and the Rapell, Leyda, San Antonio and Curicó valleys. Think Gewurztraminer, Pinot Noir, Sauvignon Blanc, Carmenere and Riesling – not necessarily in that order.
I suppose we ought to reveal something of the food … you will be starting with a light appetiser, a crisp zucchini flower with vegetables and tamarind, and finishing with a spiced lemon tart. This is, let's remember, modern Indian dining so expect surprises in between.
You will need to be quick off the mark to be one of the 40 people who can experience this intriguing and exclusive evening. The price is £90 per person and tables will be shared between eight and 12 people so be prepared for communal conviviality. The evening starts at 6:30pm and will go on till late. With not a pint of lager in sight.
The Cinnamon Club
The Old Westminster Library
30-32 Great Smith Street
London
SW1P 3BU