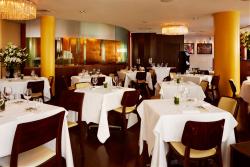 I'll probably never get to travel the Grand Trunk Road; it's one of those adventures I could only consider now if I could do it by taxi and with first class accommodation all the way. A commission from the Daily Telegraph perhaps. The fact is that as you get older the attraction of bed bugs, dysentery and setting your hair in dreadlocks gets less and less.
So lucky there is Moti Mahal in Covent Garden. Head chef Anirudh Arora has travelled the trunk road and come back with a menu that reflects the foods he found on his journey. He's also written a book with the help of Hardeep Singh Kohli, a comedian whose comedy stylings have thus far failed to raise a single snigger in our house. The book is called'Food of the Trunk Road' and if it helps you recreate the excellent dishes of the new menu even slightly it will be money well spent.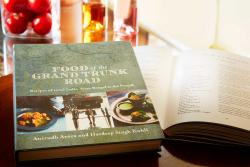 Moti Mahal is a very old and established Indian restaurant but it doesn't look it. The feel is of a modern brasserie with a semi-open kitchen to add drama. No low lights and tinkling sitar music here, although on the night of the menu's opening a small group bashed out some phat tunes on traditional instruments that set our heads nodding.
Together with luxury tour operator Abercrombie &Kent  "Passport to the Grand Trunk Road" isn't just about food, With a Moti Mahal and Abercrombie & Kent branded passport in tow, customers can earn stamps by attending events and by dining at the restaurant. Any passport that has earned six or more stamps will be entered into the "Passport to the Grand Trunk Road" competition, to win a gourmet eight-day tour of Northern India, staying at luxurious Taj Hotels along the way.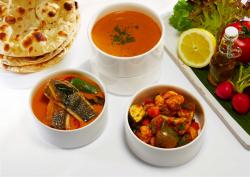 So what can you expect to eat on the road at Moti Mahal? Well the dishes came out fast, and there was a danger of blurring as I ate at speed from all plates. This was press night too and when there's a couple of journos from The Sun sitting opposite you, resplendent in 70s suits and ties, you don't want to hang about or they'll have all the available Ruby down their necks  before you can say Leveson.
So grabbing with both hands I dived in, literally grabbing as clamp grilled lamb chops, with roasted aubergine salad and a spiced chili fritter, was not something that you could use a knife and fork on; the bones needed serious gnawing so as not to miss a single bit. Fried gilt head bream was equally good, the green apple chutney sharply cutting through any small vestiges of oil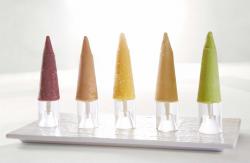 King prawns cooked in tomatoes, garlic and fresh basil was fresh tasting, light and easily digested with the flavours well defined, while my love of Dal was made stronger by a Dal Makhani made from a black urad dal from the North Western frontier. It's a classic Punjab dish whose simplicity belies its deep rich flavour and, unusually, red kidney beans are added for a slightly different texture to ordinary dals. If dal is your thing, then check out the excellent Dal Cookbook by Krishna Dutta.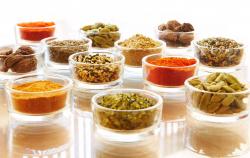 Another dish you won't get in the local curry house was Paneer Aur Akrot ka Salan. Paneer, as we all know by now is a type of cottage cheese but of an uniquely Indian kind. Here it had been cooked with walnuts and sweet pepper in a yoghurt and saffron sauce. Both were vegetarian dishes of course and a treat for non-meat eaters.
I never quite get cooking with gold leaf, I always worry the leaf will act like tin foil on the teeth, and even thinking of that now has me shuddering. However chicken cooked in a sealed pot'dum' style with saffron and yellow chillies had gold leaf on top but no shocks. Tender meat infused with a golden glow.
By now feeling a little full I only had a small bit of the Raank ki Biryani a traditional dish of lamb slow cooked with rice, chillies, saffron and spices but it was meltingly tender and the rice had elongated into witches' fingers just as good basmati should.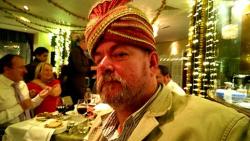 With desserts arriving just in time, and the rowdy crowd now taking turns to wear a comedy turban, I just managed to sneak in an Annanas Ra Meetha of pineapple and pistachio (possibly cashew) made fragrant with cardamom, some Gulabjamun a dish we all know, and finally some kulfi shaped into cones.
Quite a feast and the competition is definitely worth entering. It runs until March 2014.
45 Great Queen Street,
Covent Garden,
London, WC2B 5AA