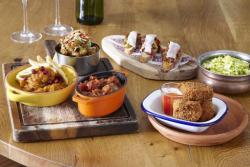 The Jam Tree Clapham has recently introduced a new menu taking inspiration from far-flung countries. 
The new menu has been created by The Jam Tree's recently appointed Executive Chef, Gary Smith. Gary spent his formative chef years working in numerous popular pubs and restaurants around London, such as the Stonemasons Arms in Hammersmith and The Flask in Highgate, and most recently he opened the Esher project, a new restaurant concept for Daylesford Organic with a focus on their own farm grown and artisanal hand crafted produce.
Since working at The Jam Tree, Gary has created an assortment of new and interesting dishes, using simple and fresh ingredients to create globally inspired plates. Designed with the relaxed dining experience of the Jam Tree in mind, the menu comprises an assortment of small and big plates that are available throughout the day, as well as larger sharing dishes.This alternative style of the menu allows guests to order to their preference; small plates whilst they enjoy a drink at the bar, or a variety of dishes to be shared between larger groups.
The New Brunch menu, available throughout the week, ranges from simple, fresh and modern options that have been given an interesting twist, such as avocado on toast & urfa chili and black pudding, apple & chutney on toast, all served with the Jam Tree's large selection of Bloody Marys and Brunch Cocktails.
Smalls:
Salmon tartar, pumpernickel, capers & chopped egg £5.50
Sotong manis: sticky battered squid £5.00
Buttermilk friend rabbit & hot sauce £6.50
Shredded sprouts, sesame, lemon & feta (v) £3.50
Bigs:
Sea trout, braised with white beans, harissa & kale £14.00
Pressed lamb shoulder bun, crispy slaw & salsa verdi, chips £12.50
Pulled chilli beef & cheese bun, chips £13.00
Sharing for 2:
Salt baked whole sea bass, caponata & polenta £18.00
Braised half shoulder of lamb, rainbow chard & sultanas £20.00
Whole cauliflower cheese, crudities, pickles & pink fir potatoes (v) £15.00
Desserts:
Almond blancmange & poached rhubarb £5.00 
Treacle tart, caramel ice cream (v) £5.50
Roast Dinner options are also available on Sundays, offering family sized sharing portions including all the regular trimmings. The Jam Tree also boasts a large selection of wine and beer, as well as a dedicated cocktail list designed in-house by mixologists, which includes their signature Jam cocktails, and nine different types of Bloody Mary.