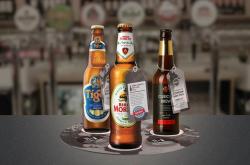 Beer has tantalised our taste buds for centuries and is one of the world's oldest beverages – dating back to asfar as 9500 BC when clean water meant beer was a safer option than water.
Today over 400 beers are served across the globe, from pale ales to lager, we love to come together for a drink and what better way to celebrate than with a brew at ibis.
ibis hotels are honouring beers from around the world with a selection of three carefullycrafted bottles for just £3, these include:
Tiger Beer – 5% Singapore
Curious Brew – 4.7% England
Birra Moretti – 4.6% Italy
Everyone knows that snacks and beer make the perfect paring, which is why ibis is inviting guests to indulge in a food combo for £7 – each carefully matched to compliment your chosen beverage, with choices of:
Prawns Tornados with Tiger Beer – 5% Singapore*
Pork Belly Bites with Curious Brew – 4.7% England*
Italian Garlic Bread with Birra Morwetti – 4.6% Italy*
So join ibis and raise a glass for one of the country's favourite drinks.
*Food combinations are subject to availability at selected hotels only. Food and drink combos will be available for £7 and single beers priced at £3, these can be purchased from the Fogg's Restaurant within the selected hotel.