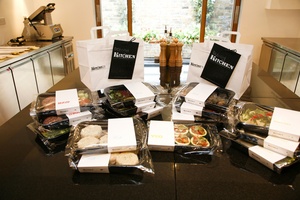 Every year on Mother's Day we all scratch our heads for that perfect and elusive Mother's Day present. So, The Kitchen of Parsons Green have come up with a selection of unique gift ideas for kids of all ages to create an extra special treat this Mothering Sunday.
Mother's Day Lasts All Week
Rather than cooking or going out for dinner or lunch, why not give her a week's worth of Michelin Star Meals for just £35.00. Order your choice of meals anytime before Saturday 21st March from the mouth-watering dishes online and The Kitchen will package them up and send them out with a bottle of wine. The perfect present to make Mother's Day last all week.
Mother's Day Lunch Surprise
Leave Mum to her one lie-in of the year and nip down to The Kitchen on Sunday 22nd March, where you can prepare a full three-course meal for you and your family. Using the finest ingredients and perfect portion sizes you can create an inspired Mother's Day lunch in less than an hour under the expert guidance of Michelin star chef Thierry Laborde, and return to serve up an exquisite meal minus the mess and washing up.
Saturday Kids' Club Make Presents for Mother's Day
And if want to create something truly unique, The Kids' Saturday Club (21st March) will be opening its doors to London's little chefs to make personalized, handmade edible treats – the perfect gift for doting Mums.
Mother's Day Gift Vouchers
Better than a cookery book, better than a standard cookery lesson and perfect for Mother's Day; we'll create a unique code and bespoke letter for you so that you can redeem it at you leisure and choose exactly how you spend it; Master Classes, Every Day Session or Wine Tasting. A brand new experience is just a phone call away.
Simply call 020 7736 8067 – www.visitthekitchen.com