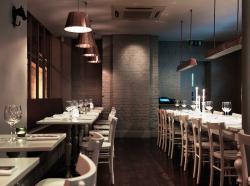 The Modern Pantry in Clerkenwell is known for its unique fusion of New Zealand cuisine with a Danish influence brought together by chef Anna Hansen.
This spring, for a limited period, Anna Hansen will be transporting her eclectic menu from The Modern Pantry to Soho, another of London's most vibrant areas. From 22 March 2011 The Modern Pantry will taking over Meza Bar & Grill in Wardour Street. For four weeks the restaurant and bar will be transformed, taking on the minimal but comfortable surroundings that define The Modern Pantry.
Dishes on the A la Carte menu will include: Sugar-cured New Caledonian prawn omelette, spring onion, coriander and smoked chilli sambal, and Beetroot, currant, okra and feta fritters with tamarind orange cream. Substantial main dishes comprise of Roast cod, chorizo, clams, squid ink mash and samphire, and Duke of Berkshire pork belly, sweet potato and fenugreek mash, cox apple and sour cherry chutney, prices ranging from £4-£18 per dish.
As well as the a la carte menu, The Modern Pantry at Meza will also serve a pre-theatre menu of 3 dishes for £15 and an Tasting Menu priced at £50 for 7-courses, or £80 – with matching wines from New Zealand such as the Riesling Waipara 2007, Pegasus Bay, Canterbury, New Zealand, or the Syrah 2007, Bilancia, Hawke's Bay, New Zealand. The private dining room is able to accommodate a drinks party or sit-down dinner for up to 44 guests, with set menus for £35 or £40 per person. The bar will offer The Modern Pantry's most popular cocktails.
The Modern Pantry at Meza launches on 22nd March and will be open for dinner Tuesday to Saturday each week until 16th April.
The Modern Pantry at Meza, 100 Wardour Street, London, W1F 0TN www.themodernpantryatmeza.co.uk For reservations call Meza: 020 7314 4002