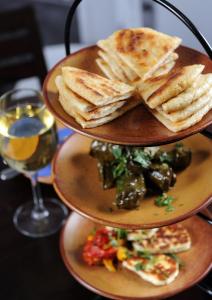 They said it wouldn't catch on, but the emergence of calorie-counted menus in its six London outlets has led to The Real Greek scooping one of the biggest rewards in the industry. This week the group announced it had scooped Healthy Eating Chain of the Year at Restaurant magazine's R200 2010 awards, beating off stiff competition from Leon and Feng Sushi.
Though other restaurant and hospitality groups have toyed with the idea of spelling out the calorific content of their dishes, very few have adopted the concept, no doubt for fear of alienating customers who on the whole – particularly in this current climate – view dining out as a rare treat and prefer not to have it sullied by finishing the night feeling like fat, greedy bloaters.
The Real Greek was the first restaurant group in the UK to include a calorie count on every single item of their menus from sides to desserts and even on the drinks list. One reason they might have felt confident that this would not have a negative impact on their trade is that a lot of Greek food is, as it happens, pleasingly low in calories. A plate of grilled halloumi at The Real Greek comes in at 151, lamb kefte has just 344 and a bottle of white Retsina contains 655 calories.
I called in at the Bankside restaurant to see for myself whether one could still enjoy a girlie get together without the totting of sums and wringing of hands getting in the way.
The menu is broad and comprises hot and cold mezes each around the £5 mark, souvlaki kebab wraps and set meal combinations for two people. Around four dishes makes a decent meal for one and if you're up for sharing then this is a great place for social gatherings. The night we visited there were more groups than couples, lending the restaurant a fun, buzzy atmosphere, thankfully low on the prospect of plate-breaking, table dancing antics past the midnight hour.
Top among our picks were crisp, battered fingers of salt cod, chargrilled calamari, sweet and herby meatballs, melt in the mouth lamb kefte and the obligatory squeaky cheese. Dishes arrive in a tower formation, a la High Tea at The Savoy, pretty and generously proportioned. From the Grecian wine list we went for a bottle of Red on Black Nemea 2009 from the Mitra Velas Estate. Served at room temperature, it was deliciously soft and plummy, so much so we ordered another bottle to see us through our desserts – a gorgeous Greek lemon sponge cake, drenched in a lemon and honey syrup (377kcal), and a decadent Greek sundae of vanilla and pistachio ice cream, nuts, seeds, homemade kataïfi, caramel sauce and whipped cream – a distinctly non-healthy 685kcal, yet you will hear no complaints from us. We had stopped totting up ages ago.
If you are watching your weight then this could well become your new favourite hang-out. If you're not, you won't feel like you've accidentally wandered into fat camp. The calorie counts are in such tiny print you barely notice them and that is as far as the finger-wagging goes. The Real Greek is a happy, smiley place where you can eat well without having to try, which should really be the blueprint for any out of home dining experience. Well done them for establishing a precedent that other city restaurants can easily emulate.
The Real Greek, 2A Southwark Bridge Road, London SE1 www.therealgreek.com