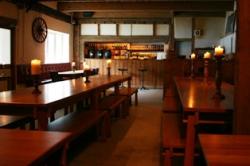 Fresh, unspoilt coastline and miles of farmland create the backdrop for some great local produce. From goats-milk cheddar and excellent bacon to freshly-caught fish and abundant organic vegetables, this is a place that celebrity chefs like Hugh Fearnley-Whittingstall, Mark Hix and Lesley Waters call home.
A recent addition to the Dorset food scene is The Stable www.thestabledorset.co.uk, heralded as 'a new concept in eating', which aims to draw on some of the best of Dorset's local produce in their fayre. Part of Bridport's Bull Hotel www.thebullhotel.co.uk The Stables is set in the hotel's original 17th century stable block. With exposed wooden panels and beams, long wooden tables and benches, The Stable is said to be a traditional cider house, some might call it 'a cathedral to cider', serving some 46 West Country brews. Their range of ciders and perries is broad, from the Barrow Hill cider brandy, to the lightly-sparkling easy-drinking Old Rascal from Somerset's Thatcher's Brewery.
With simple bistro-style tableware and help-yourself cutlery, the intention is to create an intimate, laid-back eating experience where customers can enjoy such locally made delicacies as stone-baked Dorset-style pizzas, like the Lamb Roast, topped with marinated Dorset lamb, goats-milk cheddar, thyme roasted sweet potato, roast onions and mint, or the Joe Gundry, topped with smoked mackerel, smoked salmon, marinated spinach, mozzarella, fresh parsley and lemon, each at £9. The menu also offers hand-made plait of pork, ham, cheese and chutney, or free-range chicken and apricot pies or perhaps home-baked oggies, a traditional West Country pasty.
The Stable boasts 'a family-friendly environment with plenty of space for the kids' and a menu that is likely to appeal to them. This looks like a venue that will take off, so check their web site above.
The Stable, The Bull Hotel, 34 East Street, Bridport, Dorset, DT6 3LF Tel: o1308 422878