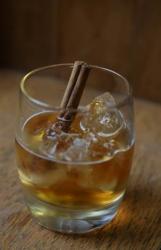 Wednesday 9th April is Winston Churchill Day.  Johnnie Walker is celebrating one of their boldest fans, a personal friend of the Walker family*, by creating:
A limited edition Red Label bottle

A commemorative Johnnie Walker whisky cocktail – The Winston Walker. 
Limited edition bottle
Twenty bespoke bottles celebrate the man, with intimate illustrations and famed quotes on the iconic square bottle of Johnnie Walker.
Commemorative cocktail
Churchill drunk Johnnie Walker straight up with a splash of soda. The Winston Walker cocktail is blend of Johnnie Walker Red and soda water, together with British beer and a touch of Marmalade. Exclusive to thebar.com, the ingredients are inspired by 1940s Britain.
The Winston Walker Recipe
60ml Johnnie Walker Red Label
40ml Spitfire beer
15ml Lemon juice
10ml Sugar syrup
20ml Soda
1 tbsp Marmalade
1 Cinnamon Stick

How to Make
1.  Fill a shaker with ice. 
Fill a cocktail shaker with ice cubes.
2. Add Johnnie Walker Red Label to the shaker. 
Using a jigger, measure 60ml Johnnie Walker Red Label, 15ml lemon juice, 10ml sugar syrup and 1tbsp marmalade into the shaker.
 3. Shake until cold.
Shake the mixture until the surface of the cocktail shaker feels chilled.
4. Strain into a glass.
Use a cocktail strainer to strain the mixture into a short glass.
5. Add Spitfire beer and soda, then stir.
Using a jigger, measure 40ml Spitfire beer and 20ml soda into the glass and stir thoroughly until well combined.
 6. Garnish with a cinnamon stick. 
Johnnie Walker celebrates the courageous character of the previous Prime Minister; with bold choices and fearless spirit. Please enjoy this drinkresponsibly.
"History will be kind to me for I intend to write it".
-Winston Churchill
* According to biographer William Manchester ("The Last Lion: Winston Spencer Churchill"), Sir Winston Churchill especially loved one special Scotch whisky: Johnnie Walker Red Label.