Michelin-starred chef Tom Kerridge joins Harrods as their'Chef of the Season' but is it a match worth munching? Another Tom finds out…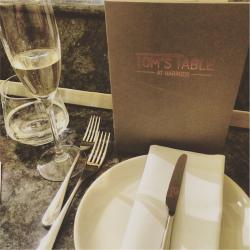 He's behind two Michelin-starred The Hand & Flowers in Marlow, and less formal The Coach, and now Tom Kerridge has created an impressive pop up at the Harrods food court.
Combining his'British-classics-updated' cooking, with the provenance and status of Harrods, the pop up is only in place until the 8th November, but if you manage to grab one of the twenty-one seats this weekend it'll be worth it.
We started with pig's head. It was formed, bread crumbed and deep fried then served with pancetta, a sweet date sauce and a delicate straw of crackling. The pig's head meat walked that subtle porky line between moist, flavoursome and fatty with the sweet sauce lifting it a little and avoiding the mini-meat-brick ever feeling heavy.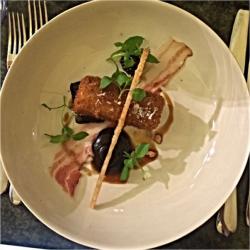 The menu offers four options for each course, cleverly attributed to either The Hand & Flowers, The Coach or Tom's new book, Tom's Table.  Dishes from The Hand & Flowers, for example, are a little higher end and complex, whereas dishes from Tom's Table are very much home-cook favourites, like a venison chilli main course.
Our main of charcoal cooked, treacle cured beef fillet served with hotdog onions was simply yet beautifully presented. The meat, I can say quite confidently, was one of the best fillets I have eaten and the hotdog onions, slow-cooked to give the gently browned look and flavour, were a clever addition. Food has the power to drive nostalgia and with these simple onions Tom has played on this well, bringing back memories of bonfire night hotdogs and wintertime school events.
We hadn't sat down to dinner until 9.15pm and so the food hall, and in fact the whole shop, was eerily quiet. Harrods generally conjures up images of tube-like conditions. People from every corner of the globe shuffling and dodging each other, grasping onto their small green bags, staring in awe at the beautiful displays.
The food halls are a place of wonder. The incredible selection of cheeses, cured meats, pies, pasties, chocolates and much more. Tom Kerridge had mentioned upon greeting us how inspiring he found it as a child and so being able to serve his food in these surroundings must be a real treat.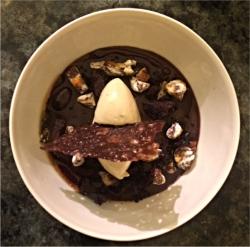 A dessert of chocolate and ale mousse was every bit as heavy and sinful as it sounds, with the waitress suggesting we try a bottle of stout alongside it. Of course we agreed, it's the professional thing to do, also finding out from her that food hall staff at Harrods are taken out on'foodie' trips such as visits to Billingsgate Market. "Fantastic", I thought, before getting distracted by the indulgent dessert.
I have to admit, it's the first time I have eaten Tom's food but it appears he has found a way to combine fine dining with comfort eating in a way that many restaurants aspire to, but do not achieve.
If you don't manage to grab tickets to the pop up, not to worry as Tom is also Harrods'Chef of the Season' and has created a range of dishes-to-go available from the food halls.  His new book, Tom's Table, is also a solid read packed full of simple yet inventive dishes.
Tom's Table at Harrods Menu
Starters
Game and Mushroom Terrine with Dill, Pickles & Toasted Sourdough
Duck Liver Parfait with Orange Chutney & Brioche
Crispy Pig's Head with Sweet Date Sauce, Pancetta and Chickweed
English Cheddar & Ale Soup with Pickled Apples & Rape Seed Oil
Mains
Spiced Monkfish, Roasted Cauliflower Puree, Home Made Raisins & Ver Jus 
Tom's Table Venison Chilli with Puffed Rice & 100%  Chocolate
Charcoal Cooked Treacle Cured Fillet of Beef, Hot Dog Onions & Thyme
Beer Brined Chicken, Pistachio Crumble, Truffle & Choux Farce
Sides
Hand & Flowers Triple Cooked Chips
Crushed Swede with Cracked Black Pepper
Wilted Kale with Crispy Ham Hock
Desserts
Chocolate & Ale Mousse with Salted Caramel & Frosted Pecans
Whisky & Rye Pudding with Crème Chantilly
Apple Tart Fine & Brambly Apple Sorbet
Vanilla Crème Brulée
For more information visit http://www.harrods.com/style-insider/news/aw15/introducing-tom-kerridge.
Heading East? Anita Jamaican me hungry with her visit to Rudie's.
And Nick may have found a true chippy in Islington.