Trader Vic's Reveals Exotic New Look
Picture this: coconuts, sand, palm trees and a whole lot of wood.
Sounds like bliss right?
As the nights get colder and the sun dips ever lower, London's first Polynesian themed restaurant and bar, Trader Vic's, which opened in London 50 years ago, is south pacific inspired décor. The restaurant's new look takes inspiration from island sunsets and lush foliage and will continue to serve its notorious international cuisine using its custom-made wood-fired Chinese ovens, which can be traced back over two thousand years to the Han Dynasty. Boy oh boy.
First opened in 1963, and capitalising on a post-World War II fascination with the south pacific (no I will not hold it against you if you just started humming Some Enchanted Evening) Trader Vic's was frequented by the stars, such as Charlie Chaplin and Elton John, and it still remains as one of London's best destination restaurant/ bars. It is enhancing its renowned tiki carved interior through a new totem pole framed bar with wood bamboo tiles, earthy colours and traditional south island tapa cloth. Marine shades in the restaurant will showcase an eclectic collection of exotic objects such as clam shells, carved wood statues, boat wheels and Oceania artwork. Pendant Chinese lanterns will provide soft intimate lighting against the thatched roof ceiling punctuated with authentic island fishing boats. Burnt orange hues bring to life wicker chairs and flooring with authentic south pacific designs.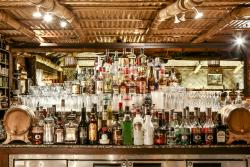 The custom-made wood-fired ovens, which use natural smoke and heat, and delivered from split oak and seasoned wood, will create Trader Vic's signature sharing dish, Big Kahuna, created using 800g of prime beef rib rubbed with Madagascan Malagasy spices.  The international menu will also be serving Indonesian rack of lamb and a Hawaiian seafood delicacy, mahi mahi, to name but a few.  Dishes start from £19.
The Mai Tai is also synonymous with Trader Vic's as it was created in 1944 in Oakland, California by Victor J. Bergeron, also known as Trader Vic. This world famous cocktail uses dark and light rum, fresh lime, orange curaçao, a dash of rock candy syrup and a drop of French Orgeat. On serving it to friends from Tahiti, they exclaimed "Mai ta roa ae", which translates as'out of this world, the best' – and so, the Mai Tai was born.
The bar at Trader Vic's provides a vibrant and vivacious evening as guests will be treated to live music and salsa dancing on selected nights, whilst the 200-strong cocktail menu is available to sample every day.
Trader Vic's bar is open from 5 p.m. – 1 p.m. Sunday to Thursday, 5 p.m. – 3 a.m. Friday and Saturday.
Trader Vic's restaurant is open daily from 6 p.m. – 11.30 p.m.  For Trader Vic's, call +44 (0)20 7208 4113 or email tradervics.parklane@hilton.com