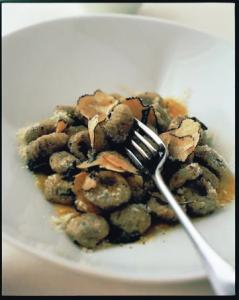 At Locanda Locatelli Giorgio Locatelli's serving up his annual dedicated truffle menu. This year the menu includes Raviolo all'uovo fresco e tartufo bianco (Homemade pasta, fresh egg ad white truffle) and Nodino di vitello con pure' di patate e tartufo bianco (Pan fried veal chop, mashed potatoes and white truffle).
In order to celebrate the start of the truffle season head chef of acclaimed Italian restaurant Babbo in Mayfair, Douglas Santi has created 3 dishes using the most exclusive of ingredients, the wild white truffle. From 1st October diners at Babbo can order homemade tagliolini with quail egg cream and wild white truffles, Guinea fowl with chestnut and wild white truffles and Veal carpaccio with wild white truffles.
The 18th century French gastronome Jean Brillat-Savarin described white truffles as 'the diamond of the kitchen', with their more pungent smell and taste compared to the black variety.
Over at Bocca Di Lupo, chef patron Jacob Kenedy is getting into the swing of truffle season by devising new dishes for the existing Autumn menu. Jacob's been exploring regional Italian cuisine with a contemporary eye and this is reflected in his new truffle featuring dishes which include; Tajarin all'uovo – Pure egg yolk taglioni with a raw duck egg yolk and Parmesan and Bagna Caoda – Warm anchovy fondue with puntarelle, treviso and other raw vegetables, both of which are recommend served with shaved white or black truffles.