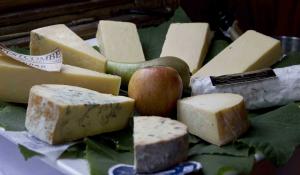 Carl Smith of The Guinea Grill is distraught, 'It's never happened before,' he says. 'I can't believe it, and today of all days too!' The problem? Chef has overcooked the beef. This is a great shame on any day, but when the beef in question is a multi-rib Aberdeenshire piece lovingly introduced by Peter Godfrey of Frank Godfrey and Sons, this verges on a court-martial offence. Chef led away in chains to meet a firing squad
Consolation is offered by the assembled foodies. 'It tastes fine,' we say, even though we are all inwardly sobbing. Any piece of beef should be as pink as possible in the centre and this one definitely isn't. Sod's Law has done it again, if something can go wrong it will go wrong at the worst possible moment.
Still this has been a good lunch. The Guinea Grill tucked away down Bruton Place has a patina of time-layered charm that can't be bought. Downstairs in the pub itself, posh men with loud voices and louder ties are having a proper lunch break. One with beer and lots of it. Upstairs there are around fifteen of us seated in a wood-panelled room that reeks of history andl, unfortunately, well-done beef.
We're here in the cause of British Food Fortnight, a national celebration of food that features festivals, promotions and tastings in pubs, restaurants and shops. Young's pubs, such as The Guinea Grill, have been particularly supportive, as befits a great British brand.
Of course these days we all get given the mantra of 'local and seasonal' by every chef that knows which way round to hold a saucepan, although many of those chefs will still go back into their kitchens and carry on dicing up aubergines and red peppers without a qualm. The fact is that if we religiously stuck to seasonal in this country, our diet would be a bit dull and many a restaurant would go out of business.
We can celebrate things like our smoked salmon though; Lance Forman of H. Forman and Son has brought superb examples with him. He invites us to note the absence of oily sheen and to lay off the lemon juice. 'You don't need it,' he says, 'or anything else, just enjoy the fish.' And we do.
Based on Fish Island, yes honestly, almost slap bang in the middle of the Olympic Stadium, Forman's do make rather superior smoked salmon which can be eaten in their new riverside restaurant and bar as well as by mail order.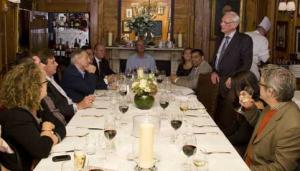 The beef we must pass over, but it was still good and the roast vegetables and gravy were all quintessentially British and delicious. After came a bit of a treat in the shape of Autumn Berries introduced by Vernon Mascarenhas of Secretts Farm. Everyone should know a little Secrett, as they are unrivalled in the way they produce fruit and vegetables all year round to very high standards of taste, organic rules and sustainability.
When Bob Farrand, 'Grandpa Cheese,' as he says he is known to his grandchildren, got to his feet, I for one drew closer to the table. A tutored cheese tasting by the master is something to pay close attention to. We had eight cheeses, Westcombe Cheddar 9 months oldBarbers's 1833 Vintage Reserve Cheddar Golden Cross, Goats Cheese, King's Favorite Colston Basset Stilton and Cornish Blue, all delicious and not a foreigner amongst them. Bob is the Director of The Guild of Fine Food, but cheese is his particular passion.
'A good cheese board has so many flavours and textures,' he told his furiously nibbling audience. 'It's my favourite food.' Mine too Bob, mine too.
Wines throughout came from the firm of Cockburn and Cambell; a Youngs company also based in Wandsworth, and were perfectly judged and charmingly introduced. Even when I launched a full glass of delicious red across the virgin white ablecloth, no one tutted. It was a terrible waste all the same.
We should all support British Food Fortnight in such a celebratory manner
The Guinea Grill, 30 Bruton Place, London, W1J 6NL