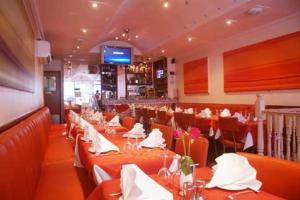 They whisper their spicy blandishments at you from darkened doorways. 'Curry sir? We have very good curry, come see.' You dismiss them with a wave of the hand, a curt shake of the head. Even, sometimes, a grumpy 'f***off!' They aren't offended, they don't think you're rude. They've already latched onto the group behind you, 'Dinner sir? Hot curry? Very good here discount!'
'The funny thing is,' muses K as we continue down Brick Lane, batting off the touts as we go 'they never bother you on the way back do they? They seem to sense that you're sated, maybe you give off a gentle aroma of cumin? Whatever it is, we'll have none of this later.'
Every single place in London's Brick Lane seems to be a curry house. They all blur into one and each has its own (technically now illegal) tout outside. 'What can you do,' says the manager of Sheba when we chat later. 'It's like a nuclear stand off. If we all agreed not to have touts, fine. But as long as one restaurant uses one, we all have to.'
Sheba has been in Brick Lane for 35 years, long before the area became a Mecca for new media kids. I remember coming here as a kid myself; it was another country then, mysterious and wonderful. Today, as Indian food reaches for the Michelin Stars, Brick Lane still carries on turning out the curries of yesteryear, Bangladeshi based and still a lure for boozed-up blokes looking to test their manhood with chilli.
Sheba has done well here, even being winner of the 2006 / 2007 Chef of the Year Brick Lane Curry Festival. Fading clippings in their window testify that local papers like it and that one day, the Evening Standard even popped in. I didn't see a clipping of Ken Livingstone shaking the owner's hand but it must have been there somewhere, every curry house had to have one of those back in the 80s, it was a GLC by-law. Inside it's classic too, no wonder they filmed the Peter Kay John Smith's ad in Sheba.
We tried the mixed grill starter of Kebab Ke Karishma Apparently a selection of kebab's from the mountainous regions of North West Frontier – chicken, lamb, mince kofte kebab grilled chop. It was quite all right, tender and tasty even, but I had a sneaking suspicion that it had been cooked a lot earlier. It was all hot enough, there was no sizzle or snap or sense of it emerging recently from fire.
Mains though were better. A Bangla Shank isn't some kind of local knife crime, but two lamb shanks slow roasted with carrots, herbs, spices and saffron. This was fall apart tender and delicately spiced. They must have been quite small lambs though we reckoned, shanks normally come larger than these do. Even so they were filling.
Kali Hari Mirch Murgi is a Rajastani dish – diced chicken with roasted black chillies, onions and a hot spicy Bhuna sauce. Onions were everywhere, great slippery piles of them, but we were told that was normal. Well maybe. I piled them to one side – I liked the flavour but feared for gastric upset. The chillies were just right, a hard hit of heat that drifted away quickly.
And of course we had to have the Bollywood Blast – Lamb chunks 'cooked in chef's own special sauce' of green chilli, Mexican chilli, Naga chilli, African chilli, spring onion and red kidney beans. Yes kidney beans. Odd eh? This is a dish designed by the restaurant to satisfy the old 'hot as you can make it Gungha Din!' clientele that still come here and it was very hot indeed. It wasn't just heat though, because under the scalding was some good depth of flavour from the meat and the Naga 'death' chilli sweetness.
The kidney beans actually worked, unsurprisingly perhaps as beans and rice is a dish that you can find in cultures around the world. I actually enjoyed it, but couldn't finish it. Few people ever can apparently, the sweat suddenly breaks out, the hand shakes, conversation around you suddenly goes on 'mute' and you know you're heading for trouble.
Walking back we were, as predicted, totally ignored by the touts, they knew we'd had our drug and there were fresh addicts tottering up the lane every minute.
Sheba isn't going to be breathlessly blogged about, it's going to stay a Nikon-free zone. It's not going to be tweeted or facebooked either. It's old-skool and proud of it. They don't need a fix at Sheba, because it's not broken. If you have a hankering for classic curry done well, pay them a visit. Tell 'em an online tout sent you.
Sheba are offering a special meal deal for London Restaurant Festival 2010. Check their website for details