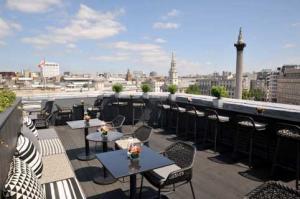 The Trafalgar Hotel, situated in the heart of London in Trafalgar Square, has unveiled Vista, its re-launched rooftop bar formerly known as the Trafalgar Roof Garden.
Located on the sixth floor of this contemporary hotel, Vista is an entirely revitalised space offering views over Trafalgar Square and other London landmarks such as Big Ben and the London Eye.
Created by award-winning designers Blacksheep, who worked on Whisky Mist at Zeta at the London Hilton on Park Lane, the space has been reworked to maximise the viewing area and introduce stunning new furnishings, creating a relaxed atmosphere of Mediterranean chic. The design is complemented by a new outdoor menu and a partnership with Pommery, which sees three champagnes on offer with seasonal vintages to be introduced.
Anthony Worrall, General Manager at The Trafalgar, said, 'London is a beautiful destination with some of the world's best bars. At Vista, we combine the city's beauty with a world-class bar by creating a fabulous rooftop venue where visitors can enjoy unrivalled views of the city in a setting of style and elegance.
A spiral staircase, subtly spot-lit at night, transports guests to Vista's striking terrace. With sleek black and white furnishings with accents of yellow and a musical mix of ambient house and chill out tunes, it's an ideal venue for lunches, informal meetings and drinks during the day or for champagne and cocktails while the sun sets over London.
Dishes from the new menu include a stuffed baby pepper with halloumi and herbs, £7.50; a watermelon, tarragon and feta salad, £13.00; and an antipasti platter, £17.50.
As well as a range of cocktails prepared with English fruits, berries and herbs grown on the roof (from £10), there is a range of champagne cocktails including the Rooftop Royale, £15.00; Watermelon Cooler, £10.00 and Pommery champagne by the glass (£14.00) served from magnums.
Vista is open Monday – Saturday from 12pm to 11pm and Sunday 12pm to 10pm, there is a £5 cover charge. The bar is available for private hire; bookings can be made by calling 020 7870 2900.
Vista at The Trafalgar, 2 Spring Gardens, Trafalgar Square, London SW1A 2TS