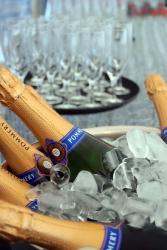 10,000 spectators are expected to attend brave new indoor polo event, the Gaucho International Polo. Teams from Argentina, England, Scotland and South Africa will play against eachother at London's O2 arena on February 24. The highlight will be The Churchill cup in which England faces Argentina.
Champagne Pommery will be sponsor, curating the Champagne Bar then serving Pommery Champagne at the star-studded Players After Party.
Sara Hicks, Vranken-Pommery Monopole's UK Director told Foodepedia: 'This gladiatorial-style event will be the world's biggest indoor arena polo test match. It's tipped to be the highlight of this winter's sporting and social calendar, which makes it a perfect setting to enjoy Champagne Pommery.
'Spectators will be able to watch entertaining exhibition, international and celebrity Pro-Am matches, and enjoy the prestige retail village and top-end corporate facilities throughout the afternoon and evening event."
For tickets and further information, visit: www.theo2polo.com