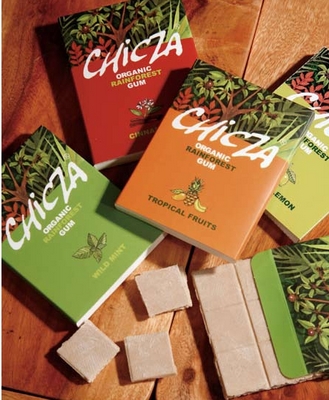 Wahaca is delighted to announce that from March 2009 both of their restaurants, in Covent Garden and Westfield, will be stocking the world's first certified biodegradable chewing gum (and it's Mexican!). Known for their eco-friendly credentials, Wahaca is keen to clean up London's streets from the sticky mess we have become so accustomed to. Once disposed of, Chicza Organic chewing gum becomes dust within weeks. The chewing gum will be available in three refreshing flavours – wild mint, lime and spearmint and will be priced at £1.39 for 12 squares.
Biodegradability
Chicza organic chewing gum is the first certified organic, 100% natural and biodegradable chewing gum ever made. Whereas most chewing gums are produced using artificial, petrol-based polymers, Chicza is made of entirely natural compounds, resulting in its decomposable nature.
Environmental Qualities
Chicza is not only a top quality chewing gum, but also an outstanding example of sustainability, and active conservation of rainforests. The natural gum base is obtained by boiling the latex from tall chicozapote trees in south-eastern Mexican tropical jungles. The sap harvest does not harm the tree and the trees can live and produce gum for as long as 300 years. The latex is extracted from 100 ft tall trees, boiled until sticky, kneaded and shaped into rectangular bricks before processing.