We're at the Playboy Club. Yes, there are bunnies. Yes, there are men in suits, but there are also just as many ladies, and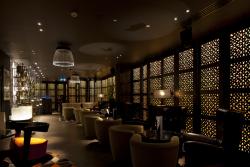 they are resoundingly not'of the night'. The lighting's low but more to create atmosphere than to disguise any nefarious activities. Oh, and Salvatore Calabrese, aka'The World's Leading Cocktail Expert', is mixing drinks and holding court with oodles of panache.
In short, it's not what you expect when you hear'Playboy'. And it's one of those occasions when you're Bloody Glad to eat- or perhaps more aptly, drink- your words. Especially when the beverages are as sublime as these. We're here to explore the Christmas cocktail menu- the only time any type of'ho ho hos' will appear in this venue.
Up for a spot of theatrics, I opt for a Christmas Puddingtini, a most pleasing combo of gin and brandy served icy cold, with a mini pud flamed with Absinthe lobbed in for good measure. Despite the presence of dessert in my drink, it's a dry, botanical beginning- more aperitif than afters- and that sozzled sphere packs a hefty punch.
The companion's gone straight for Pudding Proper, though, with a Quails Eggnog. Devoid of cloying cream and unnecessary
sweetness, it's less'sickly hard shake' and more a pleasant post-prandial sipper. There's a heady festive nutmeggy aroma and a measured slosh of that old Christmas standby, Baileys, in this bevvy, served forth in one of the chintzy retro glasses Sal lovingly collects.
My next beverage is butch, as you might expect from a drink dubbed'The Cardinale'. Guinness, cherry liqueur and chocolate read as a bittersweet symphony on the page, but in the glass they're dry and smoky as anything from clever use of bitters. This one's a weighty, nuanced trencher of a cocktail that, appropriately for something with such umami undertones, inspires a hint of the'Marmites'. Only I'm not sure whether I love it or hate it.
The fellow drinker is well enamoured, however, which is handy as I quite fancy a cheeky affair with the scarlet Silent Night. Swapsies ensue, leaving me with a chunky tumbler holding an ice cube sizeable enough to sink the Titanic drowning in a rum-based, cranberry-and-apricot flavoured concoction, its top resembling a Christmas card strewn with berries, greenery and powdered sugar. Fruity little beauty.
We seem to have gone at things a bit arse-about-face, finishing up with a citrussy Chestnut Fizz that would sit most happily alongside a lazy festive brunch. By now, we're certainly feeling merry, even though it's not yet Christmas. Salvatore's drinks fall just the right side of gimmicky, their frippery anchored by a skilled man devoted to his craft. Festive cocktails? I'll drink to that.
The festive cocktail menu is available at Salvatore at Playboy, 14 Old Park Lane, W1K 1ND from 1st December. For more information, visit www.salvatore-calabrese.co.uk
We've also got all the recipes– we're a bit crafty like that…