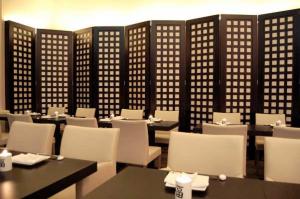 Watatsumi, the new Japanese restaurant that has just launched at the Club Quarters Hotel in London, is now open throughout the day serving an extensive all-day menu of bento boxes, light meals and sushi.
Available from 12 noon until 11pm daily, Watatsumi's menu is an edited selection from the full menu that suits everything from lunch to a pre-theatre bite or a late night supper.
The restaurant's signature tartares and tataki are available as are bento boxes, udon and donburi (rice bowl dishes) all designed with all-day dining in mind. Key dishes from the à la carte such as the grilled wagyu sirloin steak with a trio of sauces and roasted, miso-glazed black cod are also on the menu. Desserts and light bites, perfect with a cocktail or two, complete the offering.
Lunch at Watatsumi is a very relaxed affair and with prices starting at just £10.50 for a bowl of steaming udon noodles, at £12.50 for donburi (including miso soup and Japanese pickles) or at £14.50 for a Watatsumi bento box, it doesn't have to be expensive.
Club Quarters Hotel, 7 Northumberland Avenue, London, WC2N 5BY, www.watatsumi.co.uk
The following is a selection from the Watatsumi all-day menu:
Spicy Edamame, £3.80
Steamed Soy Beans tossed with Chilli Salt
Watatsumi Bento Box, £14.50
Miso Soup, Cut Roll Sushi, Sesame Stir-fried Vegetables, Steamed Rice and your choice of Chicken Yakitori, Beef Yakitori and Salmon Yakitori
Yellow Tail Tartare, £7.00
Wrapped with Cucumber Sheet and Wasabi Soy
Tuna Tataki, £11.50
Five Slices of Tuna with Okra, Red Onion and Ikura. Served with Ponzu Sauce.
Three Sashimi Assortment, £13.25
Watatsumi Platter, £45.00
Ten Pieces of Nigiri and 6 Sashimi, plus one roll selected by the chef
Tempura Udon, £12.50
Soft Thick Wheat Noodles with Vegetables and Shrimp Tempura
Black Cod Donburi, £19.50
Traditional Japanese Rice Bowl dish with Miso Marinated Black Co
Watatsumi Chicken Kare, £14.00
Served with Rice and Japanese Pickles
Hot Tofu Mushroom Salad, £8.50
Sautéed Mushrooms with Tofu and Chilli Soy Sauce
Salmon Teppanyaki, £13.50
Choice between Wasabi-Pepper, Teriyaki Sauce or Light Ginger Soy
Watatsumi