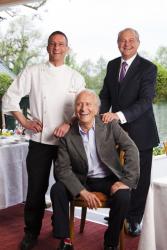 Michelin starred chefs from all over Great Britain and Ireland gathered at Bray's Waterside Inn restaurant last night to celebrate a landmark 25 years of three Michelin starred glory at the iconic Berkshire restaurant.
The crème de la crème of the culinary sampled a plated procession of 25 dishes, each taken from different menus crafted for the restaurant over the last quarter of a century. These included 'Terrine de foie gras et pintadeau truffé' from the current menu and 'Flan d'escargots en habit vert' from 1985.
The establishment, opened by legendary chef, Michel Roux Senior in 1972, has for the past eight years been run by son, Alain. It is the only restaurant outside of France to have maintained the prestigious guide's highest honour for 25 consecutive years.
The Waterside Inn gained its first Michelin star in 1974, its second in 1977, and the third in 1985.
Looking back at the point when he learned he had achieved the third star, Michel Roux Senior said: 'There are times in our lives when we remember exactly where we were, a moment of epiphany. For a chef it is when they hear that they have been awarded the Holy Grail – the third Michelin star.'
He added; 'It is important to recognise Michelin isn't just about the food – it's an entire philosophy by which a restaurant is run. For over 20 years The Waterside's front of house has been led by Diego Masciaga, and it is thanks to his dedication that the service and kitchen teams run so beautifully together.'
Alain Roux said: '2010 is an extremely special year for the team at The Waterside Inn, and in many ways, it sees the culmination of all our hard work.
'We have accomplished this great honour by maintaining consistently high standards and by building a team of loyal and passionate people, who totally believe in what we are doing. It seems only fitting that we should celebrate with our fellow Michelin starred chefs, both past and present, who just like us, are constantly striving for perfection.'
Waterside Inn – Ferry Road, Bray, Berkshire SL6 2AT