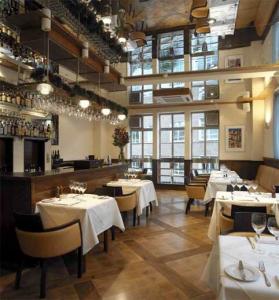 Tom and Ed Martin are launching a series of monthly wine dinners at their modern British pub, The White Swan, on Fetter Lane, EC4. Taking place on the last Friday of every month at 7.30pm, with the next events on the 26th February and the 26th March, wine enthusiasts can look forward to a fun and interactive evening learning about wine and matching different vintages to dishes that showcase the finest, seasonal, British ingredients.
Hosted by the restaurant's sommelier, Paulo Brammer in the elegant upstairs dining room, guests will indulge in five delicious courses, individually paired with some of world's top wines to complement the flavours. An ideal evening for aficionados who want to increase their understanding of wine, Brammer will share his knowledge on how to 'swirl and nose' like an expert and reveal fascinating facts on how food affects the flavour of wine as guests dine.
Dishes on the carefully crafted menu include poached plaice with Jerusalem artichokes and black truffle matched with a floral and feminine Marsanna from the Rhône valley; sweet and caramelised braised Jacobs Ladder (rib of beef) with bone marrow and kale, paired with a ripe intense Carmenère from Chile; as well as chocolate ganache with star anise ice cream and candied peanuts – a stunning combination nutty, lush Pedro Ximenex Sherry.
With tasting notes provided for each course, these events are perfect for brushing up on dinner party skills, learning how to choose wine in a restaurant, or simply leave with the ability to work out the right pairings for themselves in future. Great for foodies and wine lovers alike!
Salad of chantenay carrots, foie gras and spiced bread
Riesling, Mud House, Marlborough, New Zealand 2008
***
Poached plaice, Jerusalem artichokes and black truffle
Marsanne, Terre des Anges, Vin de Pays de L'Herault, France 2008
***
Braised Jacobs Ladder with bone marrow and kale
Carmenère, Single Vineyard, Caliterra Tributo, Colchagua, Chile 2007
***
Deep fried Wigmore cheese with rhubarb
Pinot Gris, Vavasour, Marlborough, New Zealand 2008
***
Chocolate ganache, star anise ice cream and candied peanuts
Pedro Ximenez Sherry, La Gitana, Jerez, Spain NV
**
Coffee or tea and petit fours
At just £42.00 a ticket and only 40 tickets available, booking is essential. To make a reservation and enjoy an evening to remember, please contact Nadia on
020 7242 9122 or email nadia@etmgroup.co.uk
The White Swan, 108 Fetter Lane, London EC4A 1ES
T: 020 7242 9696 / www.thewhiteswanlondon.com