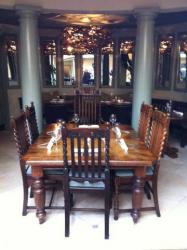 In the interests of honesty and journalistic integrity, I'm going to tell you something. I have a soft spot for the Windmill pub in Clapham. You see once upon a time I lived in a flat opposite the boozer. Sadly, I was not of age enough to drink but, had I been, I imagine I probably would have remembered even less of it than I do now. In a good way.
The truth is, it has happy memories for me, even if I haven't been near the place for a good 15 years or so. My step-dad and I spent a night there the day before he married my mum. I was his best man and I was checking I had the wedding ring in my jacket pocket every five minutes or so. Back then the Windmill was cosy but dated, my memories have a very warm glow to them and I've probably had rose-tinted glasses on when passing the place ever since.
It's a very different place now, but not, it seems, in a bad way at all. It's much more modern and although it's part of a Young's hotel chain – chain pubs/restaurants/hotels not something I always consider positive – it has a real charm.
The location, of course, right on the boundary of Clapham Common, is just about as good as you can get in London in the summer. Booze plus sun plus grass and trees equals good time – or at least in my book. And I imagine (with a pint of ale in your hand) it's pretty nice during the winter months too.
It's design is modern; and not in a designed-by-mindless-robots-that-will-eventually-take-over-the-world kind of way, but warm and modern. There's a rich, dark wood floor, rustic tables and a sky light, the bar itself has plenty of comfy-looking seating (a must in a location like this) and apparently serves real ales as well as your workaday lagers to punters who can sink into cosy-looking sofas. The menu, though we sadly did not get to try anything, also looks good, a couple of 21-day aged steaks here, some porcini ravioli and a linguine with cod cheek there, plus your standard pub fare, fish and chips, pies and sausage and mash.
A real bonus is the outside seating area, with a few horse-chestnut trees providing partial shelter from the busy main road close by, it was a lovely place to relax with a drink in hand. Then there are hotel rooms, of course, 29 of them all with en suite bathrooms and various other extras.
It seems to be a common problem to feel let down by your memories of people or places. They normally don't live up to that warm, fuzzy feeling you had when you were young, fortunately at the Windmill, this wasn't one of those occasions.