The Blues Kitchen111-113 Camden High Street NW1 7JN www.theblueskitchen.com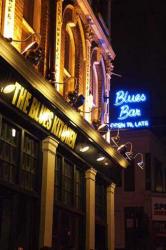 There has been something of a blues revival recently, what with two blues festivals in London in as many months; Seasick Steve hogging television's music schedules; and bars and clubs heaving with young men in tight checky-shirts and turned-up drainpipe jeans. And, since the demise of the Charlotte Street Blues bar last year, Blues Kitchen has had the monopoly on the American blues bar franchise.
The decor captures the vibe well with seating on soft, comfy banquettes or gastro pub hardwood chairs. The neutral-green, rag-rolled walls are hung with oils of blues players; and the long bar is festooned with what appear to be paraffin heaters but which are, we assumed, storm lanterns.
The menu is a US Tex-Mex soul food blend. Buffalo wings, ribs, nachos, chilli, quesadillas – and the inevitable all-American burgers with fries – vie for attention with Southern specialities such as Cajun blackened shrimp, seafood jambalaya and a hearty New Orleans gumbo. Although vegetarians (like me) may be thin on the ground south of the Mason-Dixon line, they are well-catered for here. A warm spinach, artichoke and parmesan dip was unctuous and garlicky – clearly a new slant on pesto. A seriously large Creole-spiced bean burger (at least an inch thick) filled the substantial bun right to the edges.
Whether to allow for the foibles of auto-condimenters who can't resist adding torrents of salt to their food, or to kowtow to current health fads, we felt many dishes lacked salt, particularly the side orders of coleslaw and potato salad. There was, however, plenty of kick in the fresh tomato salsa, and my partner's steak sandwich was enhanced by a tangy garnish of gherkin, red onion and capers. An accompanying naked (ie completely undressed) salad was a disappointment: a genuinely American place would offer a choice of at least four dressings, all of them highly fattening.
Despite the promise, on Blues Kitchen's website, of Key Lime, pecan and Mississippi mud pies, they were missing from the short dessert menu which was notable for its American standard issue choices: ice cream, cheesecake and banana split. We settled on sharing a warm, homemade chocolate brownie. Luckily for us, this was by far the most modestly-sized portion of the evening; everything else had come in proper US over-sized helpings.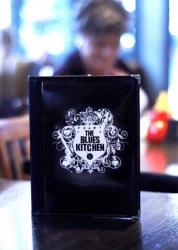 Drinks strayed somewhat from the American theme. The only new world wines were Chilean and most of the beers were European. There was an impressive range of Kentucky bourbons, Tennessee whiskeys and cocktails – and, for the sweet-toothed, ice-cream milkshakes.
Our waitress was one of only two staff on table duty and, although my partner was never asked how he would like his steak, service was prompt and attentive.
The building, a Victorian pub (and previously the Oh Bar) offers a sizeable eating and drinking space. Its corner location means that, on summer evenings, there is plenty of natural light inside apart from the very back of the long room where a pocket handkerchief-sized stage, and a scattering of small tables and stools, have been shoehorned in for live blues sessions seven nights a week.
An unfortunate consequence of having live music is that, when the place is crowded, as it was the night we were there, the noise level can be uncomfortably high as diners compete with the live act, to benefit of neither. That aside, we will definitely be going back.