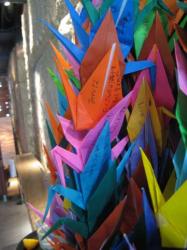 The devastation of the recent Japanese earthquake and subsequent tsunami has been felt throughout the world.
A little closer to home however, the owners and staff of Zuma and Roka restaurants have tried to make a difference.
With original figures set to reach a total of £100,000 during the summer, the founders of Zuma and Roka – Arjun Waney and Rainer Becker – were astonished to learn that through the phenomenal generosity of their guests, the amount has just reached £150,000.
On top of this and in respect of Japan's rich culture of tradition and symbolism, the staff at Zuma and Roka London have been busy over the past couple of weeks creating a thousand origami cranes (a Senbazuru) to send to the Red Cross in Japan.
Each crane has been signed by a guest with a special message of support. Legend has it, that anyone receiving a thousand of these paper cranes held together with string will be granted a wish by this mystical bird and receive a long life, a recovery from an illness or an injury. Hanging a Senbazuru is believed to be an enormously lucky and benevolent charm.